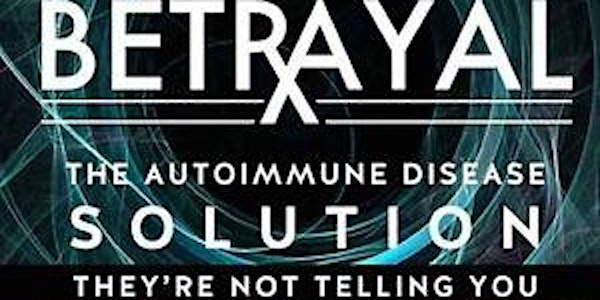 Free Screening - Betrayal: The Autoimmune Disease Solution
When and where
Location
Ottawa Holistic Wellness Centre 356 MacLaren Street Ottawa, ON K2P 0M6 Canada
Description
Why is autoimmunity so hard to cure?

The truth is this: We cannot arrest, or stop what we do not understand.
You just cannot change what you do not know.
THAT was the seed that fuelled Dr Tom O'Bryan, Functional Medicine Practitioner and Autoimmune Expert, in the making of this documentary.
According to the Health Canada, there are 2 million people in Canada, struggling with numerous autoimmunity issues. Things such as M.S, rheumatoid arthritis, inflammatory bowel disease IBD), skin disorders (Psoriasis, Eczema), Hair Loss (Alopecia), Fibromyalgia, Hashimoto's thyroiditis, to name just a few or any one of 130 plus other autoimmune diseases.
Autoimmune Disease has become an epidemic and a blight, dimming the light of hundreds of millions of people globally and is ruining lives.
Ottawa Holistic Wellness is proud to offer a FREE screening of part 1 of the documentary Betrayal: The Autoimmune Disease Solution They're Not Telling You.
In this documentary, Dr Tom O'Bryan brings you the newest information, solutions and treatments that will turn the tide and improve millions of lives.
By watching the documentary, you will learn directly from many of the Godfathers of autoimmune research, and experts who are at the top of the field in Functional Medicine, with cutting-edge information that will shift the course of your or your loved ones suffering forever!
Dr Tom O'Bryan scoured the Earth to get the leading minds on Autoimmune Disease, to share their ground-breaking information, newest ideas and solutions, that will help people just like you, turn their lives around for the better.
Event Agenda:
7:00 - 7:15 pm Welcome
7:15 - 8:45 pm Screening
8:45 - 9:30 pm Discussion and Question and Answer Session with Dominick Hussey Functional Medicine Practitioner, Dr Eric Viegas Naturopathic Doctor and Emily Dunn Licenced Acupuncturist.