Free screening of Anders Thomas Jensen' ADAM'S APPLES! Projection gratuite de ADAM'S APPLES de Anders Thomas Jensen!
About this event
Hilarious. Shocking. Moving. Profound. ADAM'S APPLES is all those things, while also being a work of compelling theological weight. An eccentric biblical allegory of a black comedy that takes endlessly surprising risks, this is the masterpiece of Anders Thomas Jensen's celebrated filmography (most recently expanded with this year's fantastic RIDERS OF JUSTICE), his strongest work in both screenwriting and direction. Jailed neo-Nazi Adam (Ulrich Thomsen) is granted an early probation in exchange for participating in a rural rehab program led by an impossibly optimistic priest (the great Mads Mikkelsen), surrounded by deeply troubled outcasts and criminals. To reveal any more would be a sin. Winner of no less than 20 awards on the International festival circuit.
Please note that while this screening is free, we will need to scan your Eventbrite QR code (on a mobile device or on paper) at the theatre entrance, so make sure not to lose it! We will also require proof of vaccination (VaxiCode) and a valid government-issued ID. Please arrive in advance.
Click here for more information on the FANTASIA EN FÊTE screening series.
Hilarant. Choquant. Émouvant. Profond. ADAM'S APPLES est toutes ces choses, tout en étant une oeuvre à la fascinante portée théologique. À la fois une excentrique allégorie biblique et une comédie noire aux abondants rebondissements, c'est le chef-d'oeuvre d'Anders Thomas Jensen (qui a récemment lancé le fantastique RIDERS OF JUSTICE), qui livrait son film le mieux scénarisé et réalisé. Un néo-nazi emprisonné, Adam (Ulrich Thomsen), est libéré en échange de sa participation à un programme de réhabilitation à la campagne, dirigé par un prêtre curieusement optimiste (l'excellent Mads Mikkelsen), qui est entouré de criminels et de mésadaptés. En révéler plus serait péché. Lauréat de pas moins de 20 prix sur le circuit international des festivals.
Veuillez noter que même si cette projection est gratuite, nous devrons scanner votre code QR Eventbrite (sur appareil mobile ou sur papier) à l'entrée du cinéma, alors assurez-vous de le conserver! Nous exigeons aussi une preuve de vaccination (VaxiCode) et une pièce d'identité valide. Merci d'arriver en avance.
Cliquez ici pour plus d'informations sur la série de projections FANTASIA EN FÊTE.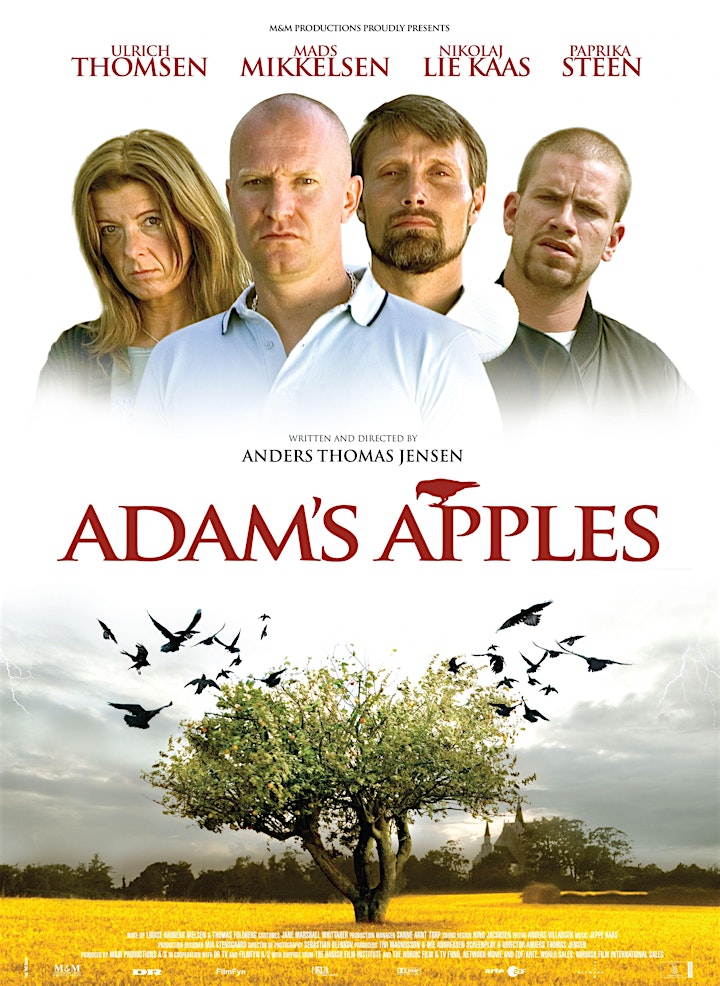 Presented with the support of the City of Montreal.
Présenté grâce au soutien de la Ville de Montréal.
Organizer of Free Screening of ADAM'S APPLES | Fantasia en fête!