Free screening of Chang Cheh's FIVE VENOMS! Projection gratuite de FIVE VENOMS de Chang Cheh!
About this event
One of pop culture's most infamous and iconic cult kung-fu films! The deadly Centipede, Snake, Lizard, Toad and Scorpion martial-arts styles collide with deadly consequences when a young disciple must ascertain the identities of his five mysterious brothers and unearth a missing treasure. In the director's chair is John Woo's mentor, Chang Cheh (ONE ARMED SWORDSMAN), who redefined martial-arts cinema in the golden age of the '60s and '70s during his tenure at the glorious Shaw Brothers studios, leading to the international explosion of the genre. Unavailable for 20 years except by badly dubbed bootlegs, Fantasia presented the restored version in 2006. Pick your poison and strap yourself in to witness some truly intoxicating fighting and intrigue.
Please note that while this screening is free, we will need to scan your Eventbrite QR code (on a mobile device or on paper) at the theatre entrance, so make sure not to lose it! We will also require proof of vaccination (VaxiCode) and a valid government-issued ID. Please arrive in advance.
Click here for more information on the FANTASIA EN FÊTE screening series.
Un des films de kung-fu les plus infâmes et iconiques! Les dangereux styles d'arts martiaux du « mille-pattes », du « serpent », du « lézard », du « crapaud » et du « scorpion » entrent en collision, et l'impact est fatal lorsqu'un jeune disciple doit identifier ses cinq mystérieux frères et retrouver un trésor disparu. Le réalisateur est le mentor de John Woo, Chang Cheh (ONE ARMED SWORDSMAN), qui a redéfini le cinéma d'arts martiaux lors de l'âge d'or des années '60 et '70, alors qu'il travaillait aux studios des mythiques Shaw Brothers, à la tête de l'explosion internationale du genre. Introuvable pendant 20 ans à part en version piratée mal doublée, le film a eu droit à une version restaurée que Fantasia a présentée en 2006. Choisissez votre poison et préparez-vous à être témoin de combats et d'intrigues qui vous feront perdre la tête.
Veuillez noter que même si cette projection est gratuite, nous devrons scanner votre code QR Eventbrite (sur appareil mobile ou sur papier) à l'entrée du cinéma, alors assurez-vous de le conserver! Nous exigeons aussi une preuve de vaccination (VaxiCode) et une pièce d'identité valide. Merci d'arriver en avance.
Cliquez ici pour plus d'informations sur la série de projections FANTASIA EN FÊTE.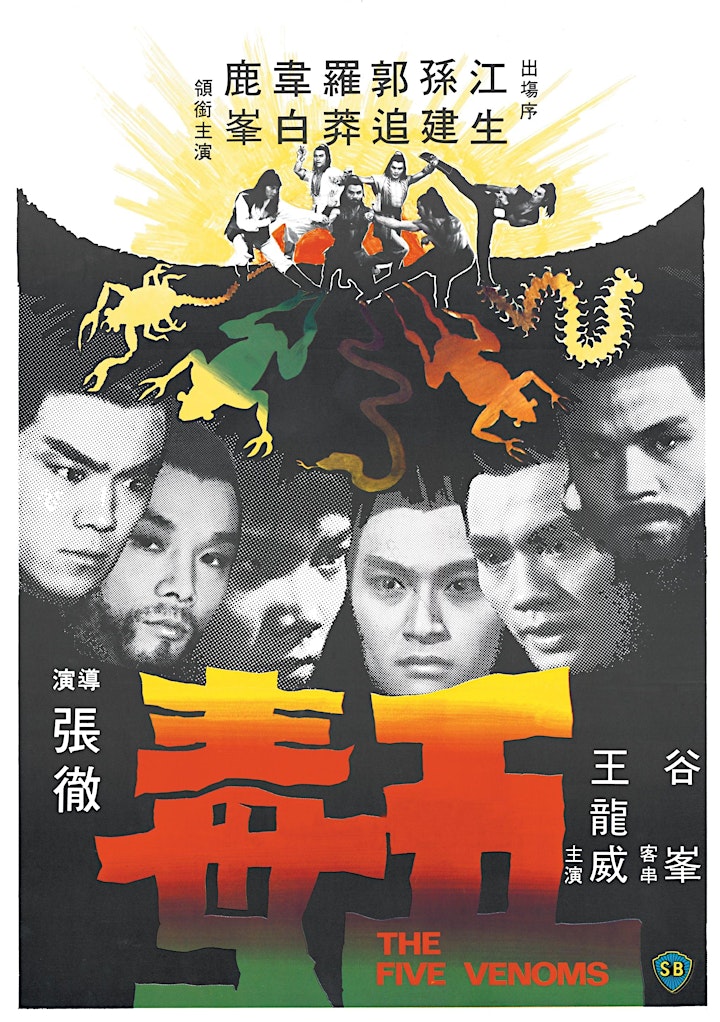 Presented with the support of the City of Montreal.
Présenté grâce au soutien de la Ville de Montréal.
Organizer of Free Screening of FIVE VENOMS | Fantasia en fête!