Free Screening of FUDOH: THE NEW GENERATION | Fantasia en fête!
Free screening of Takashi Miike's FUDOH: THE NEW GENERATION! Projection gratuite de FUDOH: THE NEW GENERATION de Takashi Miike!
About this event
A yakuza action thriller unlike anything you've ever seen, this is the astonishingly violent freakazoid of filmmaking that first brought Takashi Miike to the Fantasia screen. The truly radical tale of high-school student and ruthless mob kid Riki Fudoh, who enlists his classmates into a blood-soaked universe of vengeance and death, FUDOH explodes with ideas and never-done-before setpieces that will have your jaw on the floor. All propelled by a ferocious score by then-regular Tsukamoto composer Chu Ishikawa (TETSUO, GEMINI) and his industrial metal band Der Eisenrost.
Fantasia's North American Premiere of this bottle rocket of transgression marked the first time that a Miike film had been shown in North America, sparking a relationship with the filmmaker's work that continues to this day. Now, 25 editions in, Fantasia has showcased over 40 features from the astonishingly prolific filmmaker. In 2016, he received a lifetime achievement award at the festival. Come see the nuclear blast that started it all, presented in a new 4K scan from the last surviving 35mm print!
Please note that while this screening is free, we will need to scan your Eventbrite QR code (on a mobile device or on paper) at the theatre entrance, so make sure not to lose it! We will also require proof of vaccination (VaxiCode) and a valid government-issued ID. Please arrive in advance.
Click here for more information on the FANTASIA EN FÊTE screening series.
Thriller de yakuza unique en son genre, c'est le film d'action incroyablement violent qui a introduit Takashi Miike à Fantasia. Il raconte l'histoire radicale de l'étudiant et impitoyable malfrat Riki Fudoh, qui recrute ses camarades de classe pour plonger dans un monde de vengeance et de mort. FUDOH déborde d'idées et de séquences jamais tentées auparavant, qui vous laisseront bouche bée. Le tout au rythme d'une musique féroce du compositeur alors fidèle de Tsukamoto, Chu Ishikawa (TETSUO, GEMINI) et son groupe métal industriel Der Eisenrost.
La première nord-américaine à Fantasia de cette bombe transgressive a marqué la première projection d'un film de Miike en Amérique du Nord, signalant le début d'une relation avec l'œuvre du cinéaste qui se poursuit à ce jour. Après 25 éditions, Fantasia a présenté plus de 40 longs métrages de cet incroyablement prolifique réalisateur. En 2016, il est venu au festival pour accepter un prix de carrière honorifique. Venez voir l'explosion nucléaire qui a lancé le bal, dans une nouvelle version 4K tirée de la dernière copie 35mm ayant survécu!
Veuillez noter que même si cette projection est gratuite, nous devrons scanner votre code QR Eventbrite (sur appareil mobile ou sur papier) à l'entrée du cinéma, alors assurez-vous de le conserver! Nous exigeons aussi une preuve de vaccination (VaxiCode) et une pièce d'identité valide. Merci d'arriver en avance.
Cliquez ici pour plus d'informations sur la série de projections FANTASIA EN FÊTE.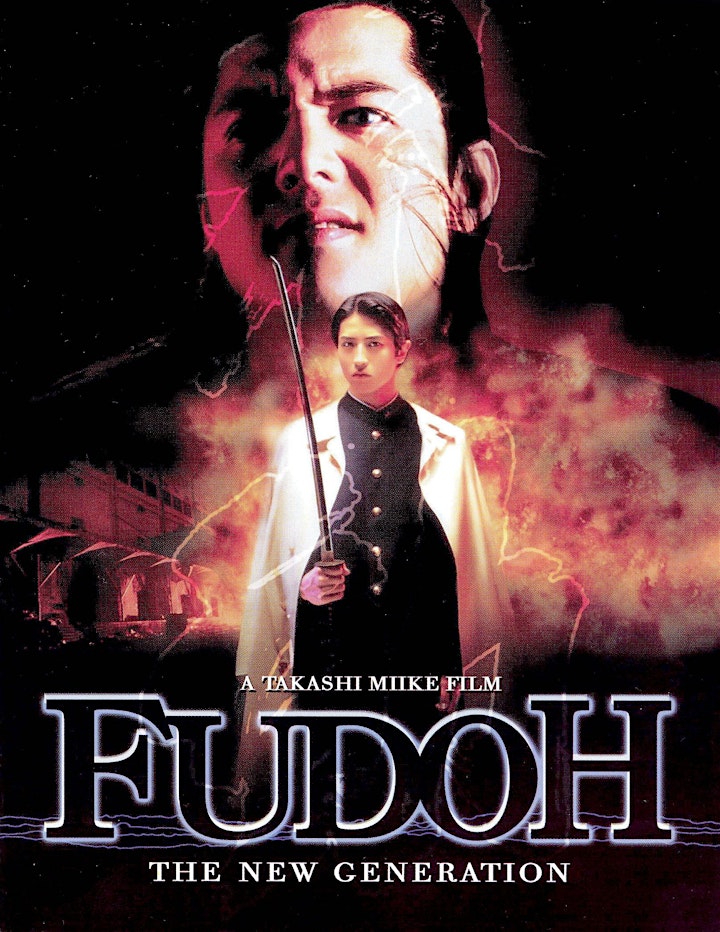 Presented with the support of the City of Montreal.
Présenté grâce au soutien de la Ville de Montréal.
Organizer of Free Screening of FUDOH: THE NEW GENERATION | Fantasia en fête!