Free screening of Terry Zwigoff's GHOST WORLD! Projection gratuite de GHOST WORLD de Terry Zwigoff!
About this event
Teen angst intersects with middle-aged alienation in CRUMB director Terry Zwigoff's brilliant adaptation of Daniel Clowes' serialized cult comic. The story of teenaged outsider best friends Enid (Thora Birch) and Rebecca (Scarlett Johansson), GHOST WORLD is a Haley's Comet of film, at once insightfully absurdist and achingly moving, an outright miracle of storytelling that never ceases to surprise. Roger Ebert memorably raved that he "wanted to hug this movie. It takes such a risky journey and never steps wrong. It creates specific, original, believable, lovable characters, and meanders with them through their inconsolable days, never losing its sense of humour." Fantasia showcased the film's Canadian Premiere in 2001, at a time when its theatrical release in the country was uncertain. It became one of the most adored films of that year's lineup.
Please note that while this screening is free, we will need to scan your Eventbrite QR code (on a mobile device or on paper) at the theatre entrance, so make sure not to lose it! We will also require proof of vaccination (VaxiCode) and a valid government-issued ID. Please arrive in advance.
Click here for more information on the FANTASIA EN FÊTE screening series.
Le malaise adolescent rencontre l'aliénation quadragénaire dans la brillante adaptation de la bande dessinée culte de Daniel Clowes par le réalisateur de CRUMB, Terry Zwigoff. Racontant l'histoire de deux adolescentes marginales, Enid (Thora Birch) et Rebecca (Scarlett Johansson), GHOST WORLD est une étoile filante cinématographique, à la fois absurde et déchirante, un véritable miracle scénaristique qui est constamment étonnant. Roger Ebert avait mémorablement affirmé qu'il souhaitait « prendre ce film dans ses bras. Il prend de grands risques sans jamais s'égarer. Il crée des personnages précis, originaux, crédibles et adorables, et erre avec eux à travers leur triste quotidien, sans perdre son sens de l'humour. » Fantasia a présenté la première canadienne du film en 2001, alors qu'il était incertain si le film allait prendre l'affiche au pays. C'est devenu un des films les plus appréciés de la programmation cette année-là.
Veuillez noter que même si cette projection est gratuite, nous devrons scanner votre code QR Eventbrite (sur appareil mobile ou sur papier) à l'entrée du cinéma, alors assurez-vous de le conserver! Nous exigeons aussi une preuve de vaccination (VaxiCode) et une pièce d'identité valide. Merci d'arriver en avance.
Cliquez ici pour plus d'informations sur la série de projections FANTASIA EN FÊTE.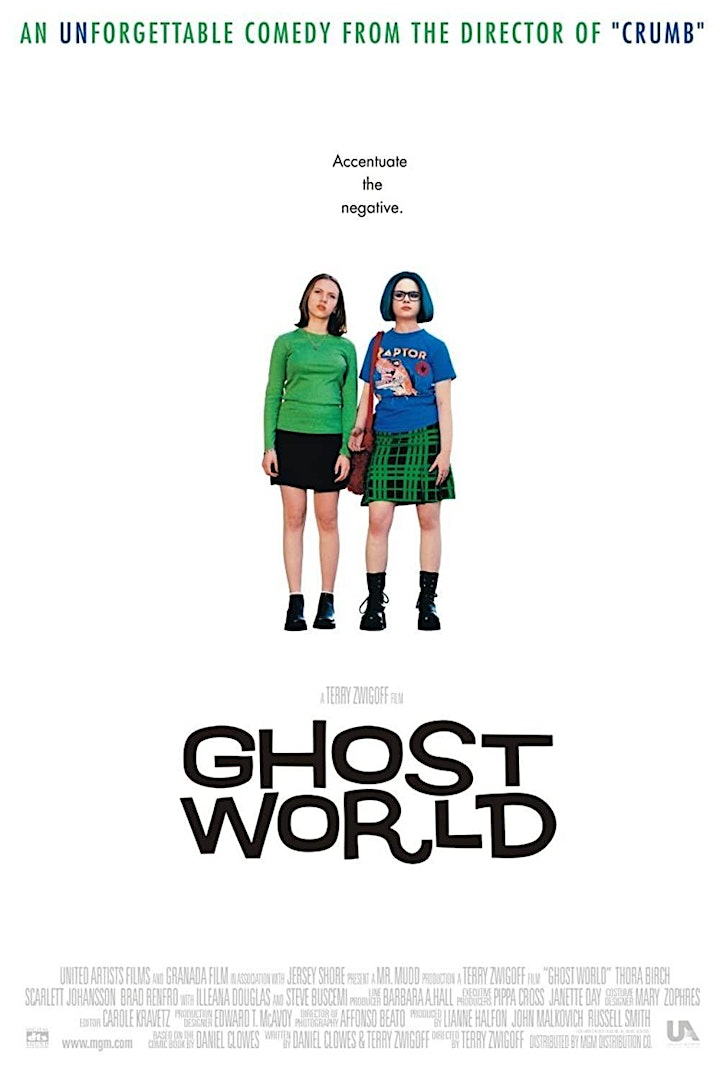 Presented with the support of the City of Montreal.
Présenté grâce au soutien de la Ville de Montréal.
Organizer of Free Screening of GHOST WORLD | Fantasia en fête!