Free screening of Lee Su-jin's HAN GONG-JU! Projection gratuite de HAN GONG-JU de Lee Su-jin!
About this event
Freshly transferred to a new school, Han Gong-ju is rejected by all the adults around her, as if she had committed an unforgivable act. Is she guilty or a victim? The revelations will leave you speechless. HAN GONG-JU, the masterful debut from Lee Su-jin (recipient of the Cheval Noir Award for Best Film at Fantasia 2019 for IDOL), made such an impact on audiences at its Canadian Premiere in 2014 that it won the Silver Audience Award for Best Asian Film, beating out several festival classics. Actress Chun Woo-hee's (THE WAILING, IDOL) staggering performance had a lot to do with it, but it's Lee's sensitive and hard-hitting script that slams the gut and forces reflection on issues that are as relevant today, if not more so. When a film giant of the calibre of Martin Scorsese praises a film without reservation and gives it the Grand Prix as President of the Jury in Marrakech, we know we are dealing with a must-see that will stay with us for a long time.
Please note that while this screening is free, we will need to scan your Eventbrite QR code (on a mobile device or on paper) at the theatre entrance, so make sure not to lose it! We will also require proof of vaccination (VaxiCode) and a valid government-issued ID. Please arrive in advance.
Click here for more information on the FANTASIA EN FÊTE screening series.
Fraîchement transférée dans une nouvelle école, Han Gong-ju est rejetée par tous les adultes qui l'entourent, comme si elle avait commis un acte impardonnable. Est-elle coupable ou victime? Les révélations vous laisseront sans voix. HAN GONG-JU, première œuvre magistrale de Lee Su-jin (récipiendaire du Prix Cheval Noir du meilleur film à Fantasia 2019 avec IDOL), a eu un tel impact sur le public lors de sa première canadienne en 2014 qu'il a remporté le Prix du public (argent) du Meilleur film asiatique devant plusieurs classiques du festival. La performance sidérante de l'actrice Chun Woo-hee (THE WAILING, IDOL) y est pour beaucoup, mais c'est le scénario de Lee, aussi délicat que percutant, qui nous prend aux tripes et impose une réflexion sur des enjeux toujours aussi pertinents aujourd'hui, sinon davantage. Lorsqu'un géant du cinéma de la trempe de Martin Scorsese louange un film sans retenue et lui remet le Grand prix en tant que Président du jury à Marrakech, nous savons que nous avons affaire à un incontournable qui nous habitera longtemps.
Veuillez noter que même si cette projection est gratuite, nous devrons scanner votre code QR Eventbrite (sur appareil mobile ou sur papier) à l'entrée du cinéma, alors assurez-vous de le conserver! Nous exigeons aussi une preuve de vaccination (VaxiCode) et une pièce d'identité valide. Merci d'arriver en avance.
Cliquez ici pour plus d'informations sur la série de projections FANTASIA EN FÊTE.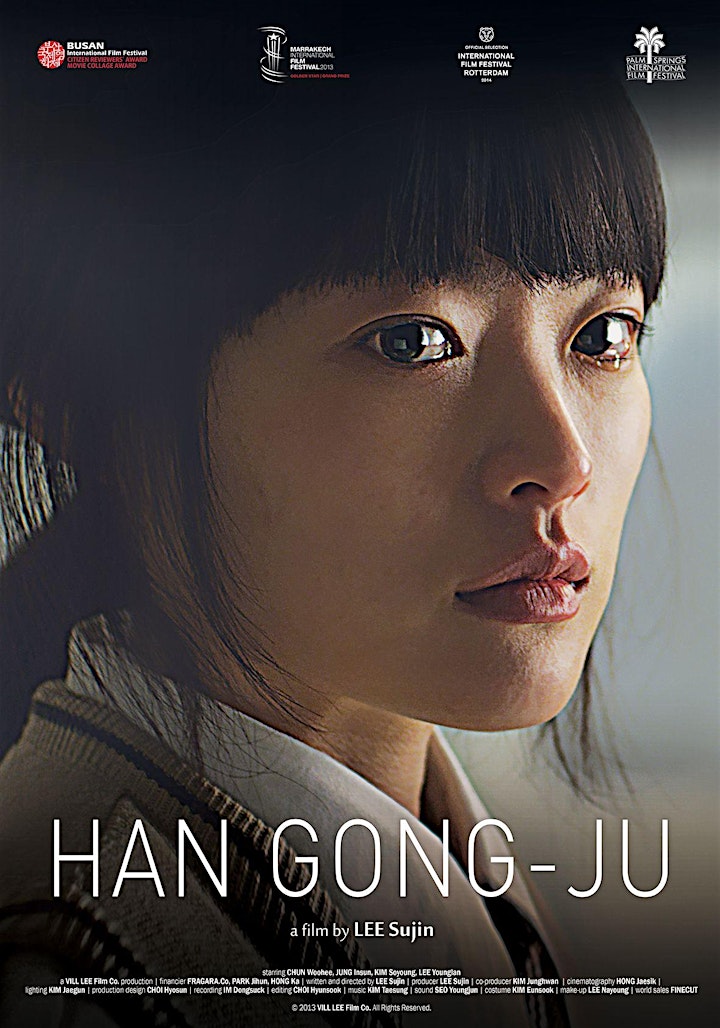 Presented with the support of the City of Montreal.
Présenté grâce au soutien de la Ville de Montréal.
Organizer of Free Screening of HAN GONG-JU | Fantasia en fête!