Free screening of Sion Sono's LOVE & PEACE! Projection gratuite de LOVE & PEACE de Sion Sono!
About this event
Writer Sion Sono has made his mark on the history of Fantasia with major, often darkly humorous works such as SUICIDE CLUB and LOVE EXPOSURE. So when it was announced that he was making a mainstream musical in the spirit of Christmas, fusing good-natured humour, fantasy, romance, J-pop and a huge kaiju that unintentionally messes up Tokyo, all the while addressing real social issues, there was a certain amount of scepticism. To say that the North American premiere of LOVE & PEACE was a pleasant surprise at Fantasia 2015 would be an understatement, as it won the Gold Audience Award for Best Asian Film following a raucous screening where the enthusiasm was palpable. The adventures of an introverted office worker who blossoms into a popular music star, inspired by his beloved turtle lost in the sewers where a homeless man brings abandoned toys to life and gives him a candy that makes him grow, is heartwarming and deserves to become a Christmas classic. As is its soundtrack, which will surely make you sing out loud.
Please note that while this screening is free, we will need to scan your Eventbrite QR code (on a mobile device or on paper) at the theatre entrance, so make sure not to lose it! We will also require proof of vaccination (VaxiCode) and a valid government-issued ID. Please arrive in advance.
Click here for more information on the FANTASIA EN FÊTE screening series.
L'auteur Sion Sono a marqué l'histoire de Fantasia avec des œuvres majeures, souvent sombres et teintées d'humour noir, telles que SUICIDE CLUB et LOVE EXPOSURE. Ainsi, l'annonce qu'il réalisait une comédie musicale grand public dans l'esprit de Noël fusionnant humour bon enfant, fantaisie, romantisme, J-pop et un kaiju immense qui fout involontairement le bordel dans Tokyo, tout en abordant des enjeux sociaux bien réels, un certain scepticisme planait. Dire que la première nord-américaine de LOVE & PEACE fut une agréable surprise à Fantasia 2015 serait un euphémisme, alors qu'il a remporté le Prix du public or du meilleur film asiatique à la suite d'une projection bruyante où l'enthousiasme était palpable. Les aventures d'un employé de bureau introverti qui s'épanouit en star de musique populaire, inspirée de sa tortue bien aimée perdue dans les égouts où un sans-abri donnant vie à des jouets abandonnés lui offre un bonbon qui la fait grossir, fait chaud au coeur et mériterait de devenir un classique de Noël. Tout comme sa trame sonore qui vous fera invariablement chanter.
Veuillez noter que même si cette projection est gratuite, nous devrons scanner votre code QR Eventbrite (sur appareil mobile ou sur papier) à l'entrée du cinéma, alors assurez-vous de le conserver! Nous exigeons aussi une preuve de vaccination (VaxiCode) et une pièce d'identité valide. Merci d'arriver en avance.
Cliquez ici pour plus d'informations sur la série de projections FANTASIA EN FÊTE.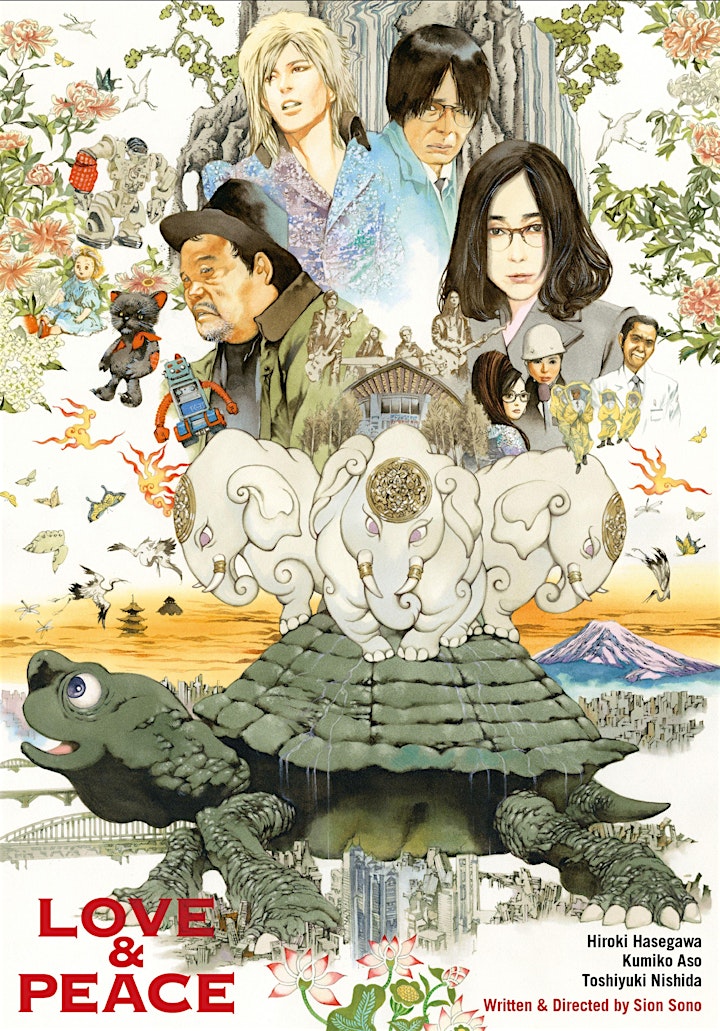 Presented with the support of the City of Montreal.
Présenté grâce au soutien de la Ville de Montréal.
Organizer of Free Screening of LOVE & PEACE | Fantasia en fête!