Description
This event is sold out.
If you have already claimed a ticket through Eventbrite, it is valid and your registration is confirmed.
Please arrive at the venue no later than 6:30PM, as we cannot guarantee a seat for you after this time.
After 6:30PM, unclaimed seats may be given away to people waiting in the rush line.
REEL CANADA is presenting the 5th National Canadian Film Day on Wednesday, April 18! At over 700 screenings across the country and around the world, Canadians will be watching great Canadian films.
REEL CANADA & CBC Toronto invite you to join the party!
Celebrate with us at the beautiful CBC Atrium in downtown Toronto with a screening of the inspiring hit film Maudie (Best Picture winner at the 2018 Canadian Screen Awards), followed by a question and answer period with the film's producer, Mary Young Leckie. You will have a chance to ask questions, get your photo taken with the producer, and WIN prizes.
This screening is specially-curated for new Canadians and English language-learners, but it is FREE and open to the public.
This event is sold out, but if you've already secured a ticket, it is valid. Rush seats will be available at 6:30PM.
Note: Maudie is best-suited for audiences over 14 years of age.

WHAT: Movie screening + Q&A with the film's producer + a chance to WIN prizes
WHO: New Canadians and English-language learners.
COST: FREE OF CHARGE!
DATE: Wednesday, April 18, 2017
TIME: Doors open at 6:30pm and movie starts at 7:00pm.
WHERE: CBC Atrium | 250 Front Street West | Toronto, ON M5V 3G5
Tickets are limited so make sure to reserve yours today before they are all gone!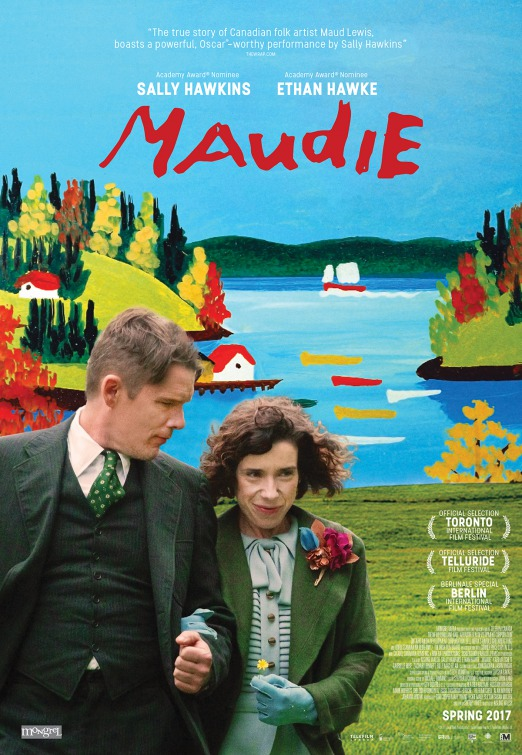 Maudie is based on the true story of Nova Scotia painter Maud Lewis, who overcame the physical challenge of juvenile rheumatoid arthritis to become one of Canada's best known and most loved folk artists.
The fragile but determined Maudie (Sally Hawkins) yearns for independence from her over-protective family and dreams of creating art. When she answers an ad for a housekeeper placed by a reclusive fish seller (Ethan Hawke), she gains more than just the freedom she wanted, as the unlikely pair develops a relationship that is intensely intimate and just as challenging.
A touching and inspiring story about following one's dreams in spite of life's obstacles, Maudie is an absolute charmer.
We look forward to seeing you on April 18! Happy National Canadian Film Day!
Presented by: