Free screening of Satoshi Kon's MILLENNIUM ACTRESS! Projection gratuite de MILLENNIUM ACTRESS de Satoshi Kon!
About this event
Arguably the masterwork of the late anime visionary Satoshi Kon, namesake of Fantasia's prestigious annual animation award, MILLENNIUM ACTRESS itself claimed two Fantasia awards – Best Animation Film and Fantasia Ground-Breaker – following its World Premiere at the festival. 2021 marks the 20th anniversary of this auspicious event, an invitation to once again join TV crewmen Genya and Kyoji as they interview the reclusive actress Chiyoko Fujiwara, a long-lost legend of the silver screen whose personal memories run parallel to the history of Japan's society and cinema. Satoshi Kon's strikingly beautiful, formally inventive, and emotionally rich film welcomed our new millennium with a reverential reflection on cinema's splendid past, and is now itself an anime classic (the recent 4K restoration of which Fantasia is proudly presenting) to be revisited and cherished anew.
Please note that while this screening is free, we will need to scan your Eventbrite QR code (on a mobile device or on paper) at the theatre entrance, so make sure not to lose it! We will also require proof of vaccination (VaxiCode) and a valid government-issued ID. Please arrive in advance.
Click here for more information on the FANTASIA EN FÊTE screening series.
L'un des chefs-d'oeuvres du regretté visionnaire de l'anime Satoshi Kon, à qui est dédié le prestigieux Prix du meilleur film d'animation remis annuellement à Fantasia, MILLENNIUM ACTRESS s'est lui-même mérité les prix du Meilleur film d'animation et du Film le plus innovateur lors de sa première mondiale à Fantasia 2001. Pour ce 25e anniversaire du festival, nous avons la chance de souligner les vingt ans de cet événement marquant. Nous retrouvons donc Genya et Kyoji, les membres d'une équipe de télévision, alors qu'ils interviewent la légendaire actrice déchue Chiyoko Fujiwara. Maintenant recluse, ses souvenirs sont le miroir du passé social et cinématographique du Japon. La beauté captivante, la créativité formelle et les émotions viscérales mises de l'avant par cette œuvre inoubliable de Satoshi Kon a marqué l'entrée dans ce nouveau millénaire en offrant une réflexion empreinte d'affection et de respect sur le cinéma, ce qui en a fait un classique de l'animation japonaise. Fantasia est honoré de pouvoir partager la restauration en 4K de cet œuvre incontournable à découvrir ou à chérir à nouveau.
Veuillez noter que même si cette projection est gratuite, nous devrons scanner votre code QR Eventbrite (sur appareil mobile ou sur papier) à l'entrée du cinéma, alors assurez-vous de le conserver! Nous exigeons aussi une preuve de vaccination (VaxiCode) et une pièce d'identité valide. Merci d'arriver en avance.
Cliquez ici pour plus d'informations sur la série de projections FANTASIA EN FÊTE.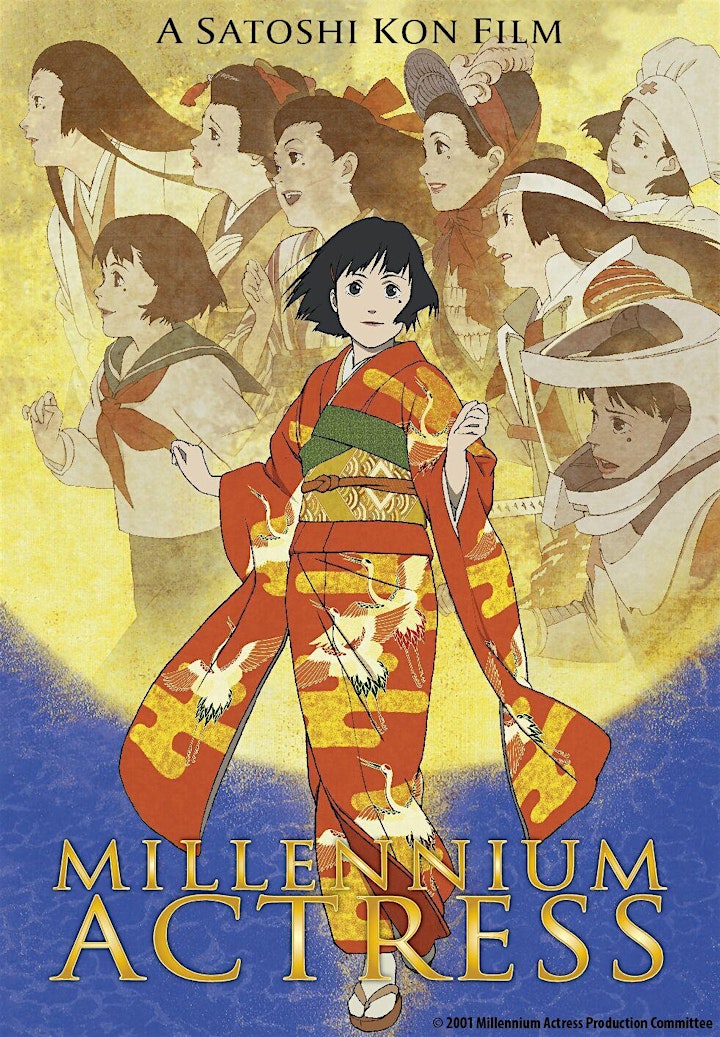 Presented with the support of the City of Montreal.
Présenté grâce au soutien de la Ville de Montréal.
Organizer of Free Screening of MILLENNIUM ACTRESS | Fantasia en fête!