Free screening of Yeo Joon Han's SELL OUT! Projection gratuite de SELL OUT! de Yeo Joon Han!
About this event
Silver Award winner for Best Asian Film and Most Innovative Film at Fantasia 2010, Yeo Joon Han's SELL OUT! remains to this day a unique and oft requested cult classic from Malaysia, blending the zany musical with a biting anti-corporate satire that takes aim at the culture of middle management as much as it does mass media in the South East Asian context. Pitched somewhere between NETWORK and Monty Python's THE LIFE OF BRIAN, Yeo's film is one of sincere, hilarious prodding and poking as it follows a narcissistic TV host named Rafflesia, whose art show is going to be taken off the air, when she crosses paths with pushover Pong, who also works for the "Fony Corporation", tasked with creating the ultimate soymilk machine and surviving the absurd demands of his boss. A fun film about creating product, art, meaning—something!—in a dull, dull world… with karaoke to liven things up!
Please note that while this screening is free, we will need to scan your Eventbrite QR code (on a mobile device or on paper) at the theatre entrance, so make sure not to lose it! We will also require proof of vaccination (VaxiCode) and a valid government-issued ID. Please arrive in advance.
Click here for more information on the FANTASIA EN FÊTE screening series.
Gagnant des prix Argent pour « Meilleur Film Asiatique » et « Film le plus innovant » lors de l'édition 2010 de Fantasia, SELL OUT! de Yeo Joon Han demeure à ce jour un des rares films cultes à nous provenir de la Malaisie. Une comédie musicale loufoque doublée d'une satire mordante de la culture d'entreprise dans le contexte du Sud-Est Asiatique, il s'agit d'une comédie situé à quelque part entre NETWORK et THE LIFE OF BRIAN de Monty Python; un brûlot à la fois sincère et hilarant. On y rencontre une animatrice télé narcissique nommée Rafflesia – dont l'émission va être retirée des ondes – ainsi que Pong, travailleur anonyme de la « Fony Corporation » pour sa part chargé de créer l'ultime machine à lait de soja… s'il parvient à survivre aux exigences absurdes et incessantes de son patron. Un film amusant sur la création de produits, d'art et de sens dans un monde autrement terne… mis à part l'occasionnel karaoké!
Veuillez noter que même si cette projection est gratuite, nous devrons scanner votre code QR Eventbrite (sur appareil mobile ou sur papier) à l'entrée du cinéma, alors assurez-vous de le conserver! Nous exigeons aussi une preuve de vaccination (VaxiCode) et une pièce d'identité valide. Merci d'arriver en avance.
Cliquez ici pour plus d'informations sur la série de projections FANTASIA EN FÊTE.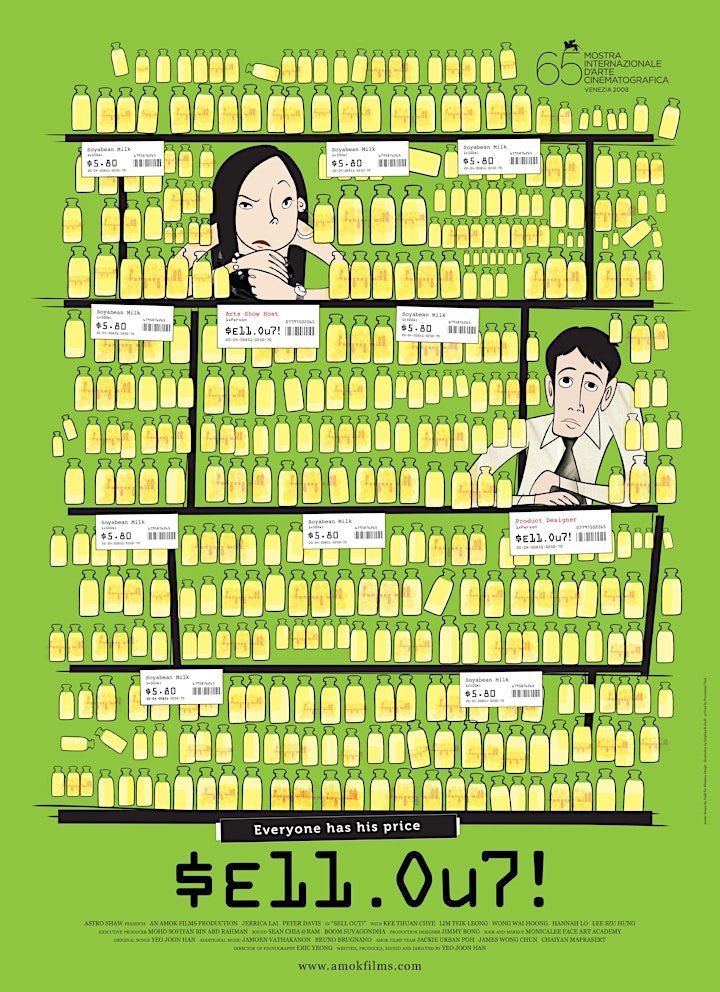 Presented with the support of the City of Montreal.
Présenté grâce au soutien de la Ville de Montréal.
Organizer of Free Screening of SELL OUT! | Fantasia en fête!