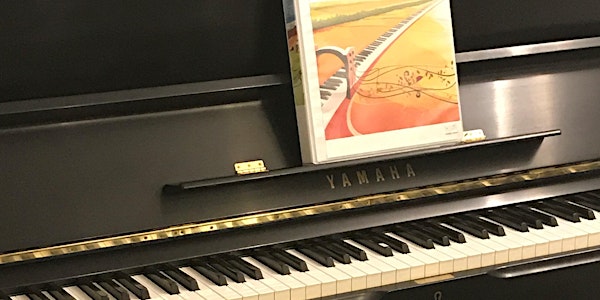 Multiple dates
FREE Simply Music Piano Introductory Session LIVE ONLINE
Not your traditional piano lessons! Come learn what sets Simply Music apart and the results YOU can expect as a Simply Music Piano Student.
Date and time
Mon, Aug 12, 2019 7:00 PM - Tue, Aug 29, 2023 2:30 PM PDT
About this event
"I've always wanted to play the piano!" Perhaps you started as a child and want to pick it up again. Maybe you want to give the gift of music to your child(ren). Simply Music Piano students learn great sounding songs so quickly and easily - Accompaniment, Classical, Contemporary, Blues, Jazz, Improv and Composition.
Learn about Simply Music Piano and your teacher, Colleen. Bring all your questions and the person who will be taking lessons, as we will be learning part of a classical song together.
Spaces are limited! Reserve your spot today to learn more about Simply Music Piano with Colleen.
FAQs
How do I obtain the Zoom link and password? 
Log into your Eventbrite account, click on your ticket.
*If you email Colleen the following information she will also forward the zoom details via email.
who will be attending the video-conference session
who you are inquiring about lessons for (yourself, your child(ren)
about any prior experience
the kinds of things that you are looking for in piano lessons  
We want to use our time well and provide best experience for everyone, so it will be helpful if you can share this information about those who will be attending in advance of our session together.
Should I include my child(ren)?
Ideally yes, but the session is about 45min plus Q&A.  Consider your child's attention as you decide whether to include the child who is interested in playing the piano, during the video-conference.
What can I expect at the Introductory Session?
Nobody likes getting sucked into a sales pitch, so this session is purely informational and educational, designed to give you all the facts you need to make the best decision about piano for you or your family. 
Learn more about the Simply Music Piano method, what sets Simply Music apart from other traditional learning methods, participate in a free demonstration lesson. You'll also learn about my studio, meet me, Colleen, and hear my personal story.
Have some questions?
There are many details that go into planning piano lessons, and you may have a lot of questions regarding scheduling, pricing, frequency, availability, curriculum costs, and piano tuner or keyboard recommendations. The best way to get all your questions answered about piano lessons is to attend a Free Introductory Session.
What if I need to cancel my reservation?
If your plans change and you will no longer be able to make the Free Introductory Session, please let us know 24 hours before the event to cancel your reservation. We would be happy to reschedule you for our next session!  Simply log back into Eventbrite and update your ticket.
No more tickets?
Spots are limited and sometimes there are more eager participants than we can accommodate.  Be the first to register for the next Introductory Session.  But if you simply can't wait, send a request (Contact the Organizer) to be added to a wait-list. We will contacted you if a spot becomes available. 
About the organizer
Simply Music has opened up my musical world with it's innovative play-based method.  I'd love to share it with you!  Everyone is musical, it's a matter of giving that musicality a voice through this instrument called a piano.
You're never too old to begin. I teach all ages and offer a variety of learning options: 4-6week workshops, private lessons, small group classes, as well as Online lessons for people who don't have access to local Simply Music Teachers.