Event Information
Refund Policy
Contact the organizer to request a refund.
Eventbrite's fee is nonrefundable.
Join a welcoming community of queer, trans and non-binary folks for Free To Heal, a 6 day healing, wellness and self-discovery retreat.
About this Event
Hello! Yes, you!
You deserve a break. Time to heal. To discover.
You deserve to be free of shame, doubt. To be authentically you. To feel worthy of that.
6 days, my friend, that's all you need.
To tap into your resiliency, your power and your most bad-ass queer self.
Look I get it, I know how hard it is to prioritize yourself. To invest in your needs. You're so wrapped up in taking care of everyone, and everything else. That is exactly why I created...
Free To Heal: A 6-day virtual wellness retreat for queer, trans and non-binary humans.
At this virtual retreat, you will feel:
Welcomed into an intimate, private space created specifically for queer, trans and non-binary people to finally feel seen, heard and understood.
Guided by a select group of queer wellness pro's to shed past traumas, understand your queer identity, discover your desire through self-pleasure, and transform into your most elevated, authentic self.
Empowered to step into your power, confidence and ability to carve a path forward to take hold of your life.
What You'll gain:
6 days of virtual workshops and events specifically created to empower you and carve a new path, in all aspects of your life.
Daily guidance, prompts, and tools to help you release and heal the patterns and beliefs that have been holding you back.
Access to a supportive space and time to transform in a profound way, that will serve you for the rest of your life.
This is for you if…
→ You feel disconnected from your authentic self.
→ You're in a moment of transition (identity, work, sex life, relationships) and are looking for tools to ground and support your way forward.
→ You're ready to use your story, your unique abilities to become fully expressed in all areas of your life.
Ok, this sounds awesome!
But… What will I REALLY gain from attending?
Awareness. Confidence. Tools. Guidance. Support.
Plus, workshops you won't find anywhere else, like...
Exactly What I Want: Self-Pleasure, Touch and Naming Desires
Gender Feels: dysphoria, euphoria and everything in between
FLUID FLOW for BIPOC queer/ trans/ non binary
To My Future Self: Intention Setting & Imagining Your Best Future
Queer Strength Collective + After Party
Workshop Schedule:
Sunday, December 6th
11:00am EST - Just A Brunch of Queers with Arlie Millyard (@arlietheo)
2:00pm EST - To My Future Self with Ali (@alimackellar_)
Monday, December 7th
6:30pm EST - Genderf*ck Club: Pleasure & Possibility with Rae McDaniel (@practicalaudacity)
8:00pm EST - Fluid Flow for BIPOC queer/ trans/ non binary folks with Clairandean (@clairitytarot)
Tuesday, December 8th
7:30pm EST - Gender Feels with Mela Swayze (@mela.swayze)
Wednesday, December 9th
7:00pm EST - Queer Strength Collective & After Party with Ali (@alimackellar_)
Thursday, December 10th
8:00pm EST - I AM HERE, WE ARE HERE with Dev (@retrogradientspace)
Friday, December 11th
8:00pm EST - Exactly What I Want with Yaz Harris (@Yaz.thehuman)
When you're ready to hit pause on the hustle, constant stress and the toll it's taking on you -- you're ready to jump into Free To Heal and 6 days of radical rest, self-discovery and transformation in your life.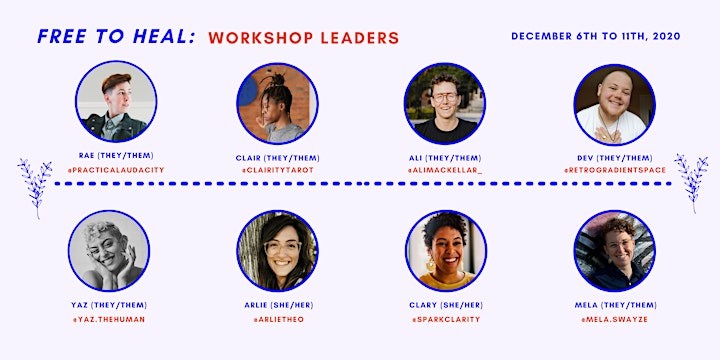 Investment
This retreat is being offered at a special rate as we approach the end of 2020: $597 includes access to the small group workshops & events
However.. join today and receive a special $437 fast-action price (until Friday, November 20th at 7:00pm)
Looking for extra support?
I'm offering a special VIP option with 1:1 private coaching support for $1297 (only 3 spots available).
If you're in need of guidance, support and gentle compassion to take the next big step forward in your life, please email allisonkmackellar@gmail.com for more info on the 1:1 support offer.
Ready to unlock your desire, resilience and queer power? Join us for a powerful week of re-imagining and support now.
Spaces are limited for this transformative, radical week!
….Still not sure?
I know it's scary to invest in yourself. Especially if you haven't before. Trust yourself, just this once. Trust your gut. You deserve to pursue your wildest dreams, the shit that scares you, everything you think you cannot do.
With a supportive community, plus an incredible group of queer leaders, we'll get you there.
FAQ:
How long is the retreat? Can I join from anywhere?
The virtual retreat will begin Sunday, December 6th through to Friday December 11th. Workshops and events will be held through a digital platform, allowing you to join from the comfort of your own space.
What if I can't clear my schedule for the week? I have to work/have responsibilities!
I hear ya! We all have responsibilities. Try your best to clear as much as you can from a social perspective, and take as much off your plate as you can with responsibilities (delegate! Ask for support, you can do this.). The more the better. You are welcome to attend as many or as few of the events as you like.
What time of day will the events/workshops take place?
On Sunday, events will take place during the daytime (11am-4pm EST). During the weekdays, workshops/events will take place in the evening, around 7-9:30pm EST.
What is included in the retreat cost?
Your ticket will include full access to 10 workshops from 8 different QTNB wellness practitioners, as well as check-ins, journal and reflection prompts delivered to you by email. You'll gain access to group support in a safe, yet brave and open space created to delve deep and uncover your way forward.
What is included in the VIP option?
The VIP option is designed for those who need extra support to do this work - maybe you're going through a tough time, feeling lost or unsure of your next steps and are in need of private coaching to unlock the answers for yourself.
The VIP Package includes:
Full access to all workshops & events
VIP Daily healing prompts, meditations & guidance
3 Private Coaching Sessions with Ali
1 Bonus Coaching Session with the coach of your choice
1 Queer Your Care VIP Bonus Gift
What if I can't attend all the workshops? Can I still participate?
Yes! All the events will be recorded, and can be viewed on your own schedule. We highly recommend engaging as often as possible in the live event, to get the best experience of this incredible community.
What if I don't have the funds for this at the moment? Do you offer any payment plan options?
We don't currently have any payment plan options, however there are a select number scholarship and partial scholarships available. Please reach out to allisonkmackellar@gmail.com if you would like to enquire about those options.
I'm already tapped out of zoom calls, can't this be done in person?
Unfortunately, we are unable to gather this number of incredible people in one room. The virtual events will not be your typical zoom calls - they will invite you to get comfortable, get creative and set up a space in your home environment that invites healing for you. There are so many amazing healing modalities in the itinerary, each event will be unique and inventive in their use of the virtual aspect - you'll have to join us to experience the magic!
I'm not out yet, and don't feel completely comfortable around the queer community, espeically people I don't know…
I hear you, coming out can be overwhelming and takes time. This is safe space. You are welcome here whether you're questioning (sexuality or gender identity), or you've been out and proud of 10 years. You'll be supported by an incredible group of QTNB wellness pro's, and a small group of participants to feel fully ready to uncover who you are and live as your authentic self.
Ready to start your journey? Join Free To Heal today as the first step on your journey to authenticity, radical self-discovery & your most queer bad-ass life!
Date and Time
Location
Refund Policy
Contact the organizer to request a refund.
Eventbrite's fee is nonrefundable.