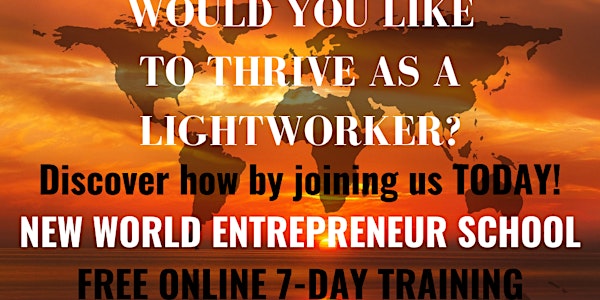 FREE TRAINING for Lightworkers : HOW TO THRIVE as a NEW WORLD ENTREPRENEUR!
Have you actualized the results you'd like as a Spiritual Business Owner? Would you like to become the LEADER of your LIGHTWORKER journey?
About this event
Then, this complimentary Business Productivity Online Training is for YOU.
Discover the 7 ESSENTIAL & EASY STEPS to create a Thriving Practice...
Day 1 - HOW TO ALIGN : August 1st, 2022
Day 2 - HOW TO START : August 2, 2022
Day 3 - HOW TO MARKET : August 3, 2022
Day 4 - HOW TO SELL : August 4, 2022
Day 5 - HOW TO FOCUS : August 5, 2022
Day 6 - HOW TO SAY NO : August 6, 2022
Day 7 - HOW TO BALANCE : August 7, 2022
EACH DAY, join me for 60 minutes to explore ONE business productivity concept to enable you to DO WHAT YOU CAME HERE TO DO!
7-DAY EMPOWERMENT MASTERCLASS facilitated by JULIE CORBEIL , R.H.N.
www.juliecorbeilconsulting.com
SPECIAL GUESTS & SPONSORS :
Marie-France Cigna (NORTH AMERICA)
* Access Consciousness® Certified Facilitator
Roger James Richards (AUSTRALIA)
* Spiritual Online MEETUP Intl Groups
Franziska Siragusa (EUROPE)
* Diana Cooper School of White Light Principal Teacher
Open to ALL Lightworkers ready to TAKE ACTION for EARTH'S ASCENSION...
REGISTER NOW - IT'S FREE!
What else is possible that we haven't imagined yet?
SIGN UP Today!