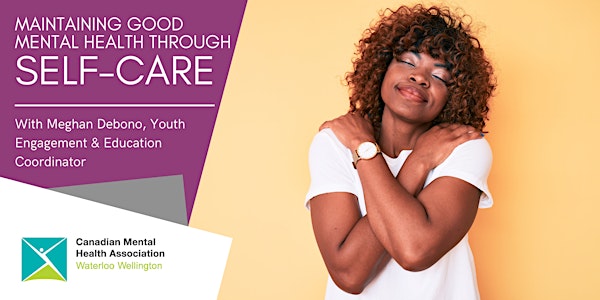 Free Virtual Talk Maintaining Good Mental Health through Self-Care
Explore what it means to have good Mental Health, and discuss the role that self-care plays in building mental wellness and resilience
About this event
Maintaining Good Mental Health through Self-Care
A great deal of emphasis is placed on our physical health – becoming more active, eating a healthy diet, having a proper night's sleep; all of these are important in maintaining our Mental Health as well. Good mental health is not merely the absence of an illness or diagnosis.
We will explore what it means to have good Mental Health, and discuss the role that self-care plays in building mental wellness and resilience.
Join us for this talk with Meghan Debono, Youth Engagement and Education Coordinator at the Canadian Mental Health Association – Waterloo/Wellington, as she shares some helpful and effective tips and strategies to care for both, your physical and mental health.
Meghan is the Youth Engagement and Education Coordinator at CMHA WW. She is a University of Waterloo graduate and has spent her last 4 years working with youth. Meghan's passion for mental health awareness and education is evident when she shares her knowledge and stories with others.