FREE WEBINAR: STUDY & WORK IN USA featuring American University of Health S
FREE WEBINAR: STUDY & WORK IN USA featuring American University of Health Sciences
About this event
FREE WEBINAR: STUDY & WORK IN USA featuring American University of Health Sciences
Fil-Global would like to invite you for a FREE WEBINAR: STUDY AND WORK IN USA by American University of Health Sciences this coming DECEMBER 22, 2021 at 10AM PH Time.
SPEAKER : MS Nhu Y Nguyen (MS.LILY)
Take advantage of this opportunity to know first-hand the ways on how you will be able to obtain your international study plans plus get the chance to ask your concerns directly from the school's representative.
REASONS WHY CHOOSE AUHS
✅ FOCUS ON THE HEALTH SCIENCES:
NURSING, PHARMACIST, CLINICAL RESEARCH. PharmD, MD (NEXT YEAR), ACCEPT INTERNATIONAL STUDENTS WITH THE SAME TUITION FEE.
✅ ACCREDITATION: WASC, ACPE, TRACS, CCNE, STUDENTS CAN EASILY TRANSFER AUHS CREDITS TO OTHER UNIVERSITIES/COUNTRIES
✅ EXCELLENT EMPLOYMENT OUTLOOK AFTER GRADUATIONWITH HIGH SALARIES. MANY OPTIONS FOR STUDENTS AFTER UNIVERSITY
✅ GENEROUS SCHOLARSHIPS FOR INTERNATIONAL STUDENTS IN PHARMACY (BACHELOR AND DOCTORATE LEVELS)
🔔For more details, you may reach us at these ff details:🔔
Perl Cervantes (Team Leader)
💻https://www.facebook.com/fgiscnegros
💌portalwest@fil-global.com
📱0923 748 3429
📱0936 217 7312
Please fill out this form for your assessment
📌 fil-global.com/vip-form/perlcervantes
Donnabille Ebon (Marketing Executive)
https://www.facebook.com/sassydonz07/
💌me4@fil-global.com
0995 4727 203
Please fill out this form for your assessment
📌 https://fil-global.com/vip-form/donnabille
Mary Jane Raza (Marketing Executive)
https://www.facebook.com/profile.php?id=100071341152024
💌calamba@fil-global.com
09953169867
Please fill out this form for your assessment
📌 fil-global.com/vip-form/Maryjane Raza
May Ann Claire Ampusta (Marketing Executive)
m.me/mayannclaireampusta
💌me7@fil-global.com
09617420126
Please fill out your form for your assessment
📌 fil-global.com/vip-form/claireampusta
Dorothy Viray (Marketing Executive)
💻 https://www.facebook.com/dorothy.bautista.viray
💌 clark@fil-global.com
Please fill out this form for your assessment
📌 fil-global.com/vip-from/dorothyviray
09198057402
Nina Luz Marasigan (Marketing Executive)
https://www.facebook.com/fgiscNina/
💌me8@fil-global.com
0956 372 8590
📌 https://fil-global.com/vip-form/ninyaluz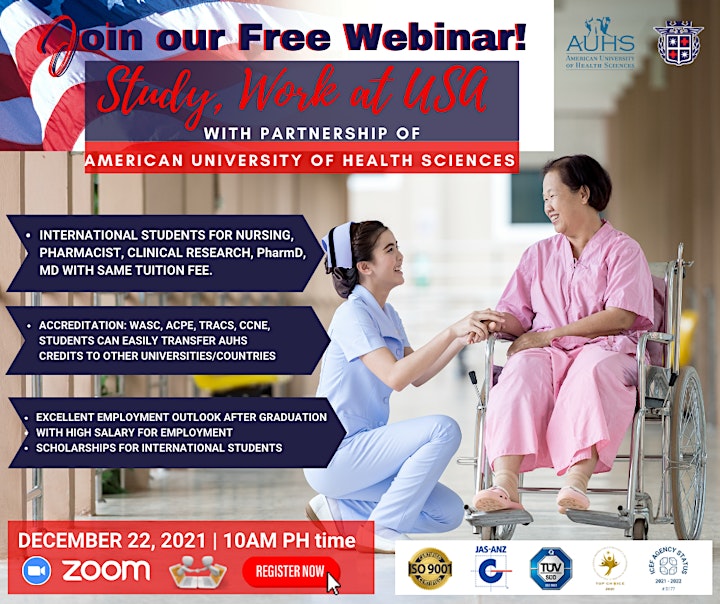 Organizer of FREE WEBINAR: STUDY & WORK IN USA featuring American University of Health S