Location
Parc Downsview Park
70 Canuck Avenue
Toronto, ON M3K 2C5
Canada
Join Ti-An DeMartines, RYT-200 for FREE yoga-in-the-park!
About this event
Join Ti-An DeMartines, RYT-200 for FREE yoga-in-the-park!
EVENING DATES HAVE BEEN ADDED! REGISTER QUICKLY SO YOU DON'T MISS OUT!
Melt away the stresses of the week by doing yoga surrounded by swaying trees and singing birds. These 1-hour classes are gentle, accessible, and suitable for all-levels!
• All-levels – complete beginners to advanced yogis are welcome!
• Participants must be 16 years of age or older. Participants under 18 must have permission from a legal guardian to participate.
• Please bring a mat, water, and sunscreen. Yoga props such as blocks, bolsters, straps and blankets are also encouraged!
• Parking, transit, and washrooms are all nearby! See maps below for details.
• Advanced Registration is required!
PLEASE NOTE:
The maps below show the pathways you can take to get to the circle, but there is a shortcut from the end of the north parking lot not shown on the maps. It is a bit of steep hill, but it is just a few steps. If you have mobility issues, please take the pathways as shown on the maps.
For more information, please contact Ti-An by e-mail at ti-an@ti-an.ca
Ti-An DeMartines BFA, RHN, RYT-200 is a Registered Yoga Teacher who wants to spread the joy of yoga to everyone who is called to this beautiful practice. Ti-An's classes are accessible, gentle, and welcoming to all. They are safe spaces where you can explore your body, mind, and spirit without pressure or judgement!
Ti-An also offers mood-boosting classes and workshops to help with stress, anxiety and other mental health issues using yoga, art-making and holistic nutrition.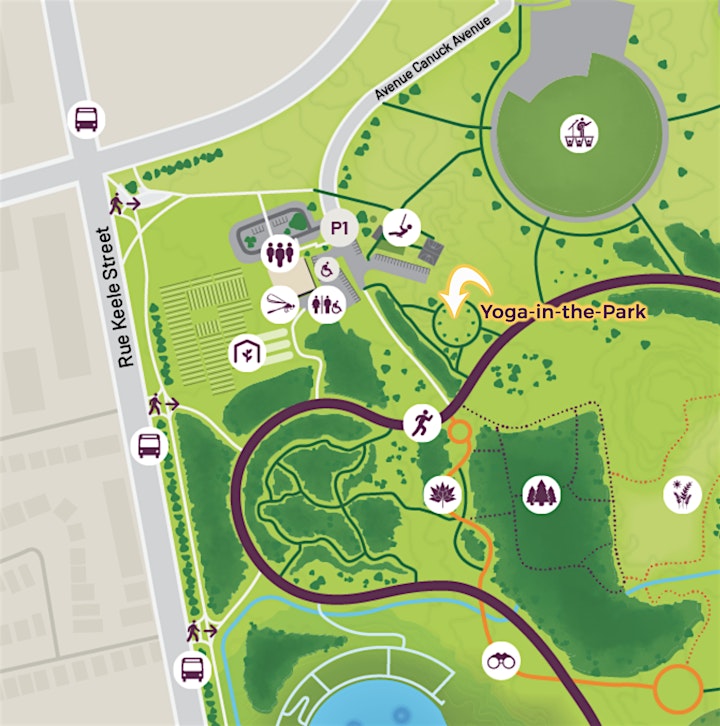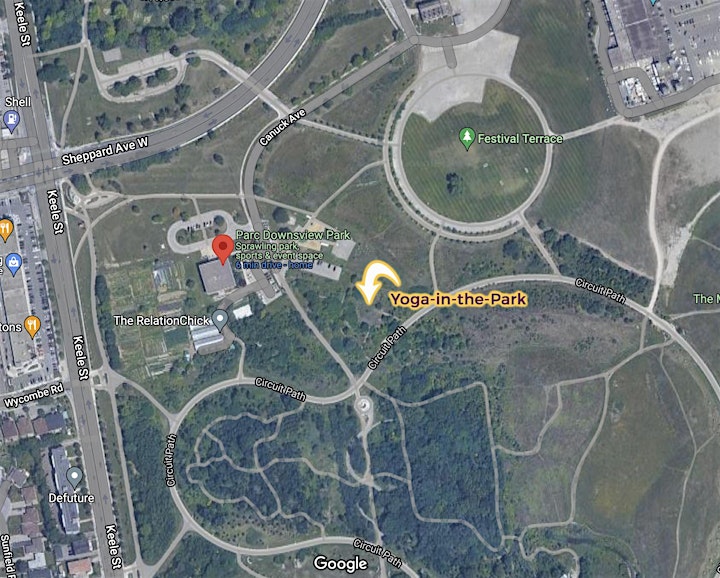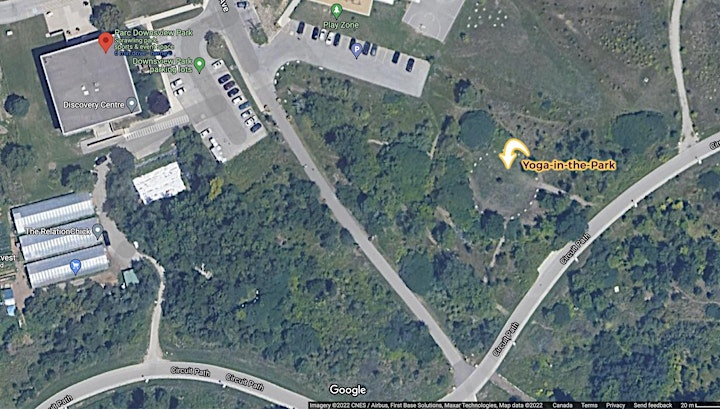 Though this class is gentle and suitable for all levels, there are risks to all activities. By registering for this class here on Eventbrite, you acknowledge the following:
1. I am participating in yoga classes, health programs, workshops and/or other wellness,bodywork, therapy, exercise, and healing arts activities (collectively, the "Activities")offered by Ti-An DeMartines (the"Teacher"). The Activities will be offered outdooors at Downsview Park, and be considered "Activities."
2. I recognize that I must be in adequate physical and mental health to participate in the Activities. I understand that the Activities may require intense physical exertion, andI represent and warrant that I am physically fit enough to participate, and I have nomedical condition which would prevent my full participation in the Activities. I recognizethat the Activities may cause or aggravate a physical injury or medical condition. Iunderstand that it is my responsibility to consult with a physician before my participationin the Activities. If I have done so, I have taken the physician's advice. I understand thatthe Teacher reserves the right to refuse my participation in any Activity on medical,fitness, or any other grounds.
3. I am aware that my participation in the Activities could result in high blood pressure, fainting, heartbeat disorders, physical injury, heart attack, or stroke and may aggravatepre-existing injuries. I understand that I could experience muscle, back, neck, andother injuries as a result of my participation in the Activities. I understand my physical limitations and I am sufficiently self-aware to stop or modify my participation in anyActivity before I become injured or aggravate a pre-existing injury.
4. In consideration of being permitted to participate in the Activities, I agree to assume fullresponsibility for any risks, injuries or damages, known or unknown, which I might incuras a result of participating in the Activities, including those which may result from thenegligence of the Teacher.
5. In further consideration of being permitted to participate in the Activities, I knowingly,voluntarily, and expressly waive any "Claim" (as defined below) I may have against theTeacher and any of Teacher's employees, independent contractors, or assistants (each,a "Released Party") that I may sustain as a result of participating in the Activities even ifthe Claim arises from the negligence of Released Party or anyone else.
I agree to indemnify and hold harmless Released Party from any loss, cost, or liabilityincurred in defending any Claim made by me or anyone making a Claim on my behalf,even if the Claim is alleged to or did result from the negligence of Released Party oranyone else."Claim" includes but is not limited to any and all liabilities, claims, demands, expenses,fees, legal actions, rights of actions for damages, personal injury, mental suffering,and distress, or death that I may suffer, my spouse, children, or unborn child may suffer(including any legal fees or expenses) in connection with participation in any Activity.
6. I, my heirs or legal representatives forever release, waive, discharge, and covenant notto sue any Released Party for any Claim caused by any negligence or other acts of any Released Party.
7. I hereby understand that the Teacher from time to time may photograph, video, or otherwise record Activities and place such photographs and videos on its Website or social media plat-form. I hereby consent to the use of my image that may appear in any such photograph or video.
I acknowledge that I have carefully read this agreement and fully understand its contents. Ivoluntarily and knowingly agree to the terms and conditions stated herein. I am aware that by signing this agreement, I am giving up substantial rights, including my right to sue and certain legal rights my heirs, next of kin, executors, administrators, and assigns may have against any Released Party.