Sales Have Ended
Ticket sales have ended
Entries open June 18 Entries closed June 25 Final Results July 15 First prize 500/ 2 -300/ 3 -200 Entry Fee $ 5 dollars Canadian
Sales Have Ended
Ticket sales have ended
Entries open June 18 Entries closed June 25 Final Results July 15 First prize 500/ 2 -300/ 3 -200 Entry Fee $ 5 dollars Canadian
We at New Horizon Media Arts Inc have taken the initiative to use the social platform to connect with people from different walks to life ,.
About this event
WHAT DOES FREEDOM MEAN TO YOU?
Everyone has a different definition of freedom. But we can all agree that without the freedom -to think, to speak and to act- we as a society would not be able to progress forward. This event was created to celebrate the various kinds of freedom that we are privileged to have and to acknowledge that we need to use our freedoms to help those who who are suffering. Because everyone deserves to enjoy the benefits of freedom.
Selfie Speaking Competition
#safedistancesavelives will sponsor the Youth Selfie completion.(12 - 18 ) There as cash prizes in Canadian Dollars only
First Prize $500
Second Prize $300
Third Prize $200
https://newhorizonmediaarts.ca/
All first 100 forms need to be up loaded . In our Session 1 started in April 2020 with Covid 19 we have aired 18 episodes. We will feature Voices 2020
We have sponsorship opportunities available as currently web series is manged by volunteers and we need help to cover our production costs.
A new trailer for Sree will be featured. We have a 4 part documentary series releasing via private screening and Online film festivals starting September 2020.
This event will be streamed on face book and will be available on YouTube as well
https://www.facebook.com/101025021579646/live/
And the you tube link is
https://www.youtube.com/channel/UCM8Gl6rtKj0uh-Gv38yZf4w?view_as=subscriber
Dear Esteemed Sponsor
New Horizon Media Arts is a Mississauga-based film production company focused on making films on social justice. After the successful completion of our first feature-length documentary, we currently have two films under production. But we lack the funding to take these films into post-production to complete and prepare them for the big screen. To solve the issue, we are holding a fundraiser.
Our fundraiser titled 'Freedom' is being held on July 19, 2020 In accordance with our company's focus on social justice, the evening will feature a wide variety of inspirational speakers who will cover topics like New Immigrant stories, Domestic abuse, Human trafficking, Human rights, Mental Health, and Public speaking. Alongside these informative speeches, and dinner, the event has a dazzling entertainment line-up: choreographed dance performances, live music from renowned band Jazz Junction, and a DJ who light up the dance floor for the guests with foot tapping music.
But we need your support to make this online event a real success. With trusted sponsors like you to ease the burden of overhead costs, we can create a memorable night for our attendees.
The evening's line-up was created to satisfy our global audience of. With roots from various countries, our attendees are socially conscious and eager to support unique ventures. As a sponsor for this event, we will share information about you and your work to our audience.
We have limited sponsorship spots available. Please look at the enclosed table for more details. We have currently Platinum, gold silver and bronze sponsorship available , We also have sponsorship available for the selfie youth competition.
Thank you in advance for your sponsorship. We hope to see you at 'Freedom'.
Sincerely,
Mallika Sothinathan
Link
https://www.facebook.com/events/860617054432364/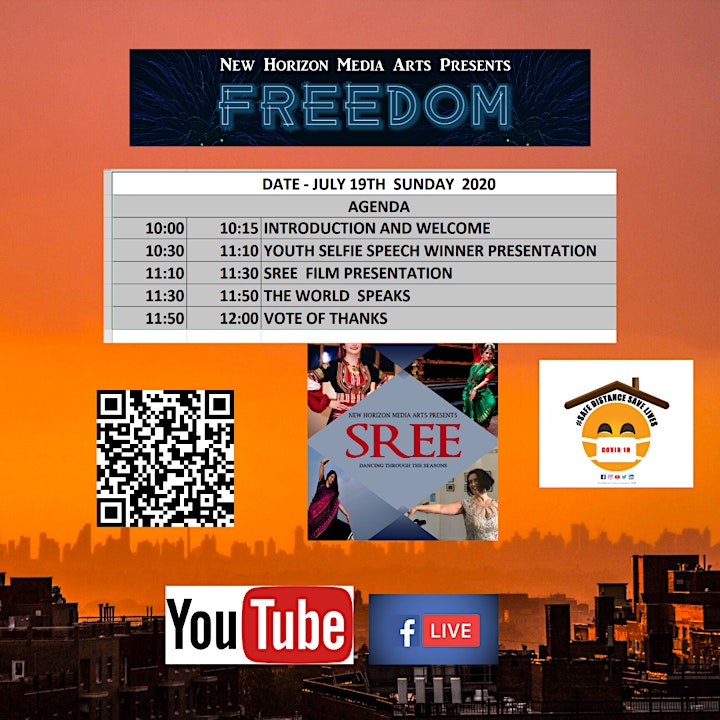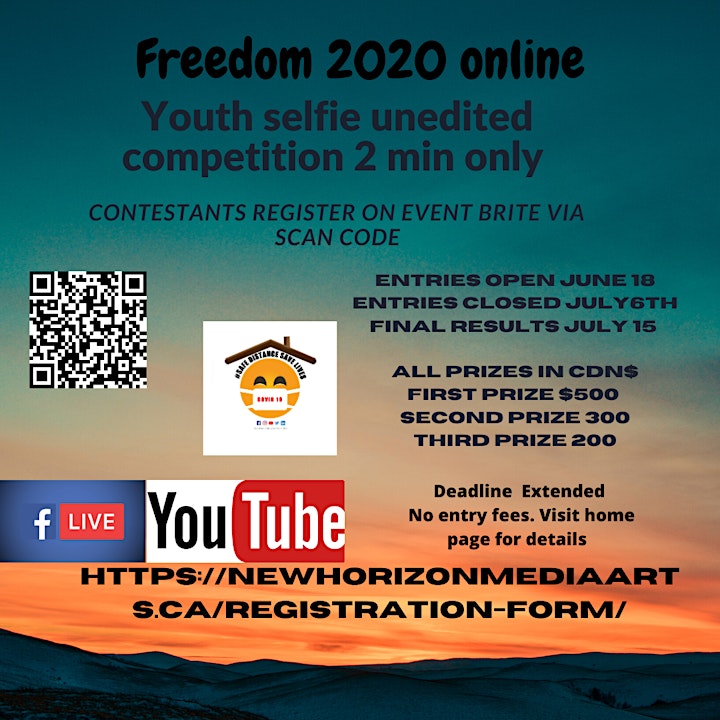 Date and time
Location
Refund policy
Organizer of Freedom 2020 An online event
Mallika Sothinathan is the producer and director of "Crossing the River of Life". After a long stint in corporate retail, she returned to her passion of storytelling through film. With a postgraduate in Mass Communication and award-winning experience in Toastmasters, she focuses on capturing the real person behind the story. Her expertise lies in managing people and services, with a focus on decision-making, building solutions and improving productivity. Having produced several radio documentaries for All India radio, she currently makes documentaries and corporate films.