Multiple Dates
Freelance Contracting 101: Survive and Thrive in the New Economy
Description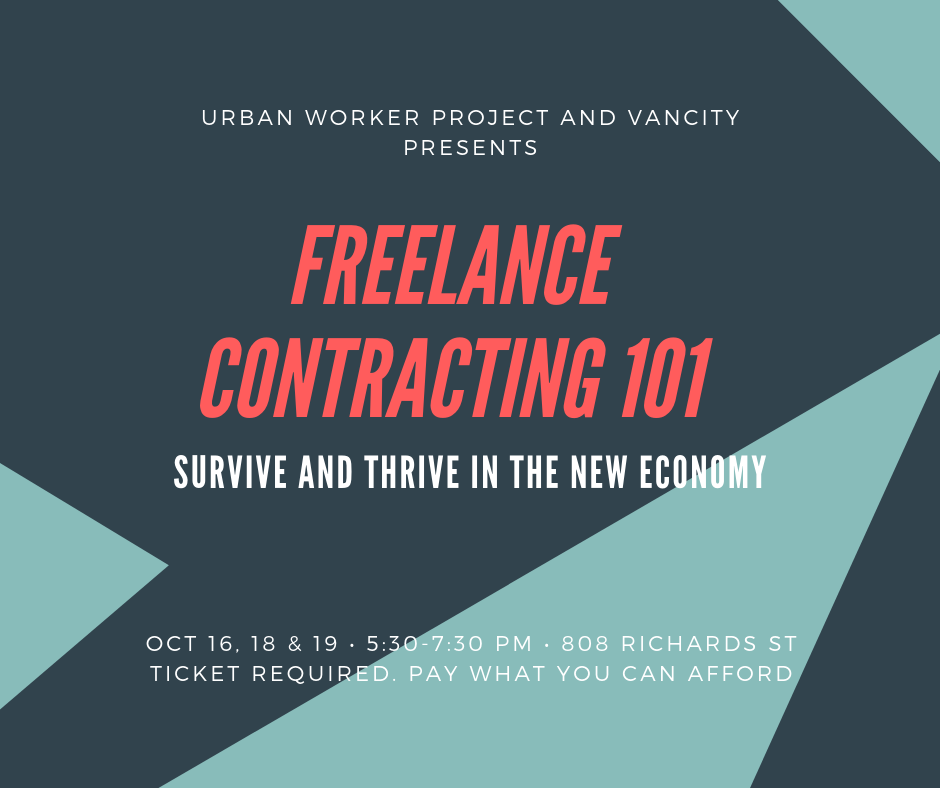 3 HANDS-ON WORKSHOPS ON TAXES, RATE SETTING AND BUSINESS PROCESSES + SOCIAL | 5:30 - 7:30 PM
Calling all freelancers, contract workers and solopreneurs!
Are you new to freelancing and need some advice and resources to get you rolling? Or are you a veteran freelancer looking for a refresher and some new tips and tricks? Do you have a bunch of questions about how to set your rates, how to get paid on time, taxes, business planning or tech tips?
Whether you're a semi-veteran freelancer or just starting out, Freelance Contracting 101 is a series of three two-hour workshops bringing together new and seasoned independent workers to learn best practices from experts on how to survive and thrive in the new world of work.
We have teamed up with Vancity to offer these hands-on workshops that will focus on essential skills, tools, tips and resources to be more efficient, effective, healthy and successful in your freelancing work.
We would like to acknowledge that these events are being hosted on ancestral, traditional and unceded Indigenous territories of the Coast Salish Peoples, and in particular, the Squamish, Musqueam and Tsleil-Waututh First Nations on whose territory we work, live and play on.
WORKSHOPS | DATES AND DESCRIPTION
OCTOBER 16 - EVERYTHING YOU NEED TO KNOW ABOUT TAXES AND FINANCE - HOSTED BY TANIA LO
Whether you're an experienced freelancer or just starting out, the goal of this workshop is to help you learn some tips and tricks for managing your finances so that when it comes time to file your taxes, your tax accountant will be super impressed! Instead of being anxious, you will know how to be ready for tax time #likeaboss. This workshop will focus on what you need to keep track of throughout the year to file your taxes and tips and tricks to make keeping track more digitally organized and less of a shoebox mess. We will discuss strategies to manage cash flow, and other tips on staying organized with your self-employed income.
This workshop will conclude with an overview of free DIY bookkeeping tools so you have all the information you need to file your taxes online or through a small business tax accountant who can provide up to date advice on ensuring you have taken advantage of all new tax incentives available to Freelancers. You will also have an opportunity to ask specific questions.
OCTOBER 18 - SYSTEMS FOR THE SMALL SHOP - HOSTED BY RACHEL FLOOD
Is your business administration leaving you little or no time for the work you actually enjoy? Do you know that need to improve your business processes, but have no idea where to start? Are you overwhelmed by all the different types of business management software available? If so, this workshop for you!
In this workshop you will:

Learn how to identify areas of your business processes that need refinement
Learn how to evaluate and select software that can support your business processes
Discover how cloud technology can help more fully leverage the software you are currently using
Get an exclusive peek in the business systems, automation, and workflows of Alignment Ops
You will walk away from this session with a greater understanding of how your business operates, the high priority areas for improvement, and a deeper understanding of how business software can help align your vision with your operations.
OCTOBER 19 - STATE YOUR WORTH - HOW TO ASK FOR WHAT YOU REALLY WANT FROM NEW AND EXISTING CLIENTS - HOSTED BY ANNIKA REINHARDT
Congratulations, you made it. You took the leap. You recently joined the growing freelance community, you've got your first few projects but now, the big question comes: am I charging the right rate? With the freelance economy growing, it's becoming more and more competitive in the marketplace. Knowing your worth and the true value you bring to your customers is what sets you apart and allows you to thrive.
In this negotiation workshop we'll focus on:

Understanding freelance pricing models and where to find information
Getting into the right negotiation mindset
Practicing how to ask for what you really want
TICKET PRICING & ACCESSIBILITY

You can decide to take one, two or all three workshops. Accessibility is our top priority so we are offering a sliding scale: $15/workshop, or Pay What You Can Afford.
AFTER PARTY | CENTRAL CITY BREWING
Following the last workshop on October 19, we will be hosting a social at Central City Brewing for all the participants to network and connect with fellow freelancers from all the workshops.
MORE DETAILS TO COME SOON
Follow us on Facebook @urbanworkerca for announcements of our amazing workshop presenters and more.
---