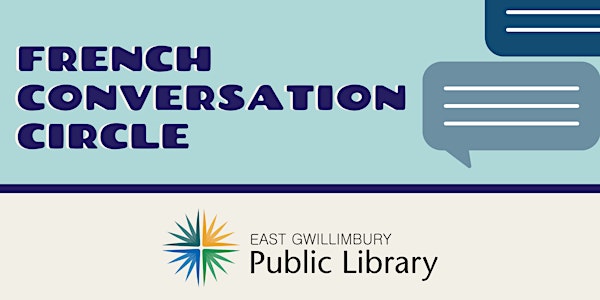 French Conversation Circle
Practice your conversational French in a fun, supportive environment!
About this event
Would you like to practice your conversational French in a fun supportive environment? Then join us for our French Conversation Circle! We're looking for advanced to expert level speakers.
PROGRAM RULES:
• Attendees must be local. This program is hosted by the East Gwillimbury Public Library and we aim to provide support our local French community.
• This is NOT a French class or tutoring class. This is a conversation circle where participants are encouraged to practice their French speaking skills. We are looking for intermediate to advanced level speakers.
• Please arrive on time; if none or only one participant attends the French Conversation Circle, the meeting will be closed at 12:15 pm because of insufficient number of participants.
After registering for the program, the Microsoft Teams link to join the Conversation Circle will be sent to you via email on the morning of the program. You can use a personal account to join or can join as a guest.
For more information, email Janae at jremillard@egpl.ca.