Event Information
Refund Policy
Contact the organizer to request a refund.
Eventbrite's fee is nonrefundable.
About this Event
Schoolyard Harvest Dinner Online Event--August 13th, 2020, 6:00pm
Summer Harvest Box Pick Up--August 12th, 3:00pm - 7:00pm at the Italian Cultural Centre- 3075 Slocan Street, Vancouver.
The Schoolyard Harvest Dinner is our most anticipated fundraising event of the year. Funds generated from the dinner directly benefit its SOYL (Sustainable Opportunities Youth Leadership) program, which engages and empowers youth.
On Thursday, August 13th we'll celebrate together (online) with an elegant summer meal experience composed of the best and freshest of the season's harvest all in support of Fresh Roots programs that engage and empower youth.
After much discussion, we decided we just couldn't let this year pass without connecting and gathering with our community to share and celebrate with delicious food and great company in true Fresh Roots fashion. To that end, we are thrilled to announce that our Fourth Annual Schoolyard Harvest Dinner is ON! And, like most things these days, we've had to tweak our long table in-person format to bring you an elegant (and safe) dining experience.
For this extra-special year, we are creating summer harvest boxes filled with everything you'll need to create a beautiful summertime meal experience to share with friends, family, or your colleagues at home or in a location of your choice. The box will include fresh and chef-prepared ingredients for a simple and delicious meal to finish at home and thoughtful accoutrements like wine and flowers for the table.
-MENU-
Amuse Bouche - Profiteroles stuffed with Fresh Roots Herbs and Salt Spring Island Goat Cheese. Candied Agassiz Hazelnuts. Wine Compressed Figs
Charcuterie Board - a selection of charcuterie from Legends Haul, an assortment of local pickled vegetables from our friends at Cropthorne Farm, Zaklan Heritage Farm and Fresh Roots, Saltspring Harvest Vege Pate and Vegan Spreadable dips accompanied by a demi-load of freshly- baked Fife Bakery Bread
Main - Sous Vide Organic Ocean Sockeye Masala and Legends Haul Sirloin, Fresh Roots Harvest Salad, Zucchini Palak Paneer Terrine, Carrot Vindaloo Vinaigrette, Atchara Relish, and Wheatberries
Dessert -Summer Cheesecake topped with raspberry coulis from Olera Organic Farms
Beverages- your choice of a bottle of red or white wine from Marquis Wine Cellars, cans of 33 Acres Sunshine French Blanchè beer and kombucha from Bucha Brew.
Accoutrements- a bouquet of flowers for the table, cookies from Susgrainable, surprises created by our SOYL youth program participants, and more.
Guests will come together online on August 13 at 6:00 pm for a celebration and program featuring kitchen tips and tricks from chefs TJ Conwi and Natasha Sawyer about how to compose your plates with the contents of your summer harvest box. Participants from the SOYL program will also share stories about their time with Fresh Roots.
Participants from our SOYL (Sustainable Opportunities Youth Leadership) program will connect with you to share stories about their time with Fresh Roots, and we'll fill you in on what we've been up to at Fresh Roots over the past year and months. More fun details to be announced in the weeks leading up to the event!
We will have a limited number of experiences for groups of two, four or six guests and are excited to offer incentives for folks who'd like to share the experience with others by hosting a larger (safe) gathering or sponsoring a company-wide dinner. Please contact Caroline Manuel, Communications and Engagement Manager at 778-764-0344 ext. 108 or caroline@freshroots.ca with any questions or for more information.
Our Generous Sponsors!
Legends Haul, Organic Ocean, Marquis Wine Cellar, Saltspring Harvest, 33 Acres Brewing, Susgrainable, Fife Bakery, Odd Society, Bucha Brew, Olera Organic Farms, Cropthorn Farm, Zaklan Heritage Farm, Tsawassen Farm School, Coho Commissary, The Italian Cultural Centre, Food Pak, Cedar Isle Farm, Food Pak, UBC Farm
HOW WILL IT WORK?
1. Purchase ticket(s)!
2. Choose a pick-up day! Packages will be ready for pick up in Vancouver at the Italian Cultural Centre located at 3075 Slocan St, Vancouver, BC V5M 3E4 on Wednesday, August 12th from 3 pm-7 pm where you will have an opportunity to meet our SOYL youth team who will have been working hard to create some special products to share with you! We will reach out closer to the event to provide other helpful details!
(We will be happy to arrange for the delivery of Dinners of 8 or more!)
3. On Thursday, August 13th you'll set your table, lay out your picnic blanket, or find a lovely spot to enjoy your multi-course meal. Make sure to chill the beverages in your package! (your meal requires a little cooking of the protein for the non-vegetarian option )
4. You'll log on (with a link we will provide) at 6:00 pm to connect with your fellow guests and our Fresh Roots team and SOYL youth. Our talented chef partners will walk you through the simple preparation of the contents of your experience package providing some easy insider tips on how to prep and plate like a pro!
5. Once your meal is ready we'll pause for a quick reset and give you a chance to sip a beverage and sample your first course!
6. We'll continue with our celebration program and wrap up the festivities around 7:00 pm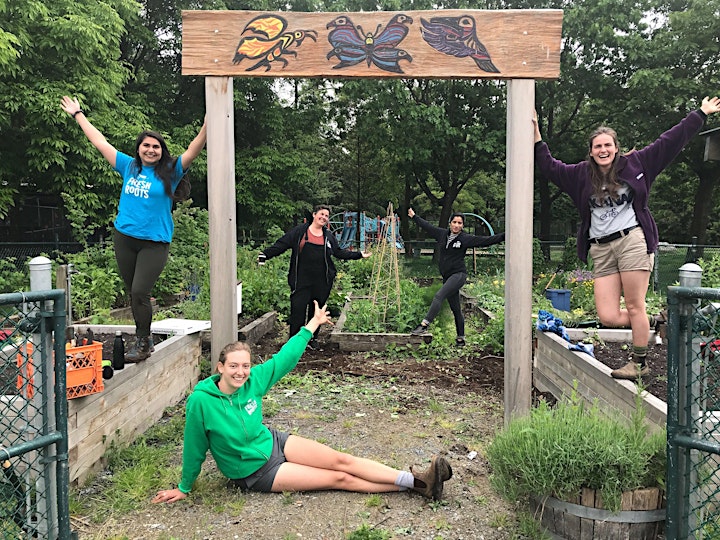 The 2020 SOYL team leads, Hanah, Caleigh, and Nicole, are energized and ready to engage and empower a new crop of youth for the next 6 weeks!!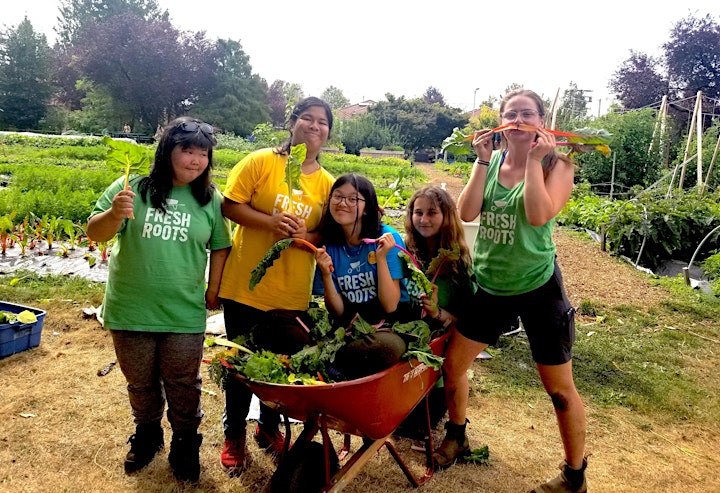 2019 SOYL alumni Stephanie, Maria, Railene, and Sarina with facilitator, Nicole. Read more in our latest blog post written by these incredible humans!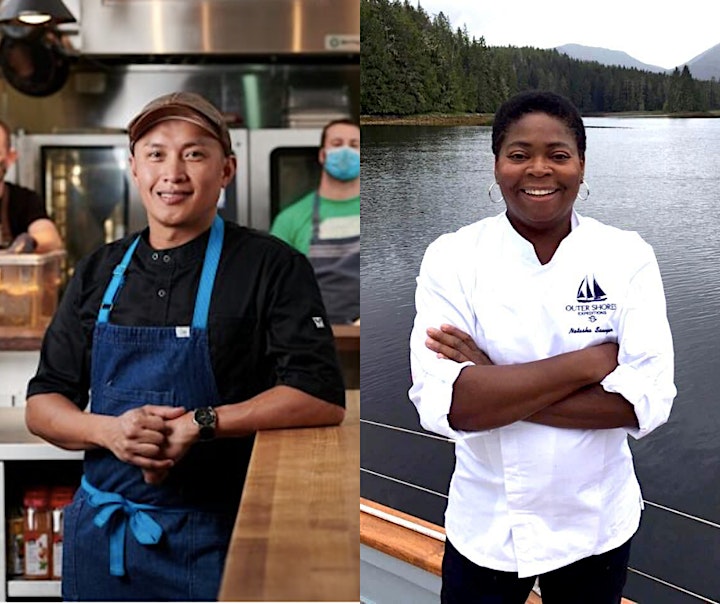 Meet the Chefs!
Chef Natasha Sawyer and TJ Conwi are collaborating on our menu. Both Tasha and TJ work on a number of Fresh Roots initiatives and programs including our current COVID-19 initiative, LunchLAB: Chefs for Families. Together they have created the menu and curated the ingredients for our Summer Harvest Boxes included in your Schoolyard Harvest Dinner At-Home Edition ticket.
Tasha has spent the last 12 years cooking in both Alberta and British Columbia, continually adding to her food knowledge and growing her repertoire. An avid forager and seafood lover, she revels in the diversity of ingredients found on the coast, and showcases their distinctive flavours, while celebrating the beauty inherent in each ingredient.
TJ has a passion for both west coast and Asian cuisine. His culinary curiosity began with his roots in the Philippines and has taken him as far away as kitchens in Taiwan and Chile. Organic, local, and sustainable ingredients are the highlight of his dishes. TJ is the co-owner of Ono Vancouver offering kitchen consulting and private chef services.
Date and Time
Location
Refund Policy
Contact the organizer to request a refund.
Eventbrite's fee is nonrefundable.