About this Event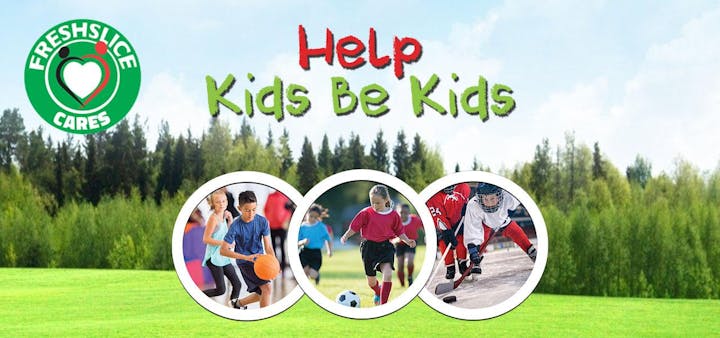 Freshslice Cares was formed in 2018 by Freshslice Holdings Ltd., the parent company of Freshslice Pizza restaurant chain. As an independent, not-for-profit organization, our primary purpose is to contribute financially to youth sports associations based near our restaurants to facilitate and promote sports to:
Help Kids Be Kids.
WITH YOUR SUPPORT
We are addressing the needs of Minor League Sports Associations, who are in need of financial assistance to conduct or improve their youth sports activities throughout British Columbia.Your support allows us to continue provide funding to support thousands of British Columbia's youth by financially contributing to their associations the funds required to better the experience for these young athletes. Thanks to you and the generous support of Freshslice Pizza, we can do our part to Help Kids Be Kids
With your support, we will make a positive difference in the lives of children's throughout the Province.
THE EVENT - Back to the '70s Dine and Dance Gala
The Freshslice Cares First Annual Gala is the start of a yearly tradition for our community. This event brings together leaders from the business community, as well as politics, sports and entertainment personalities. It is an opportunity to come together, have some fun and celebrate the importance and impact of our philanthropy, for the betterment of youth in British Columbia, through financially supporting sport and physical activity, throughout British Columbia. This years Gala theme is Back to the 70's, so look through your closet and get out the checked blazers and platform shoes. Big hair, colourful clothes and expressions like, "Can you dig it!" or "Far Out" will be the order of the day. Music will be performed by, "Fab Fourever", who will be returning from a successful European Tour. They will be playing all your favorite "Beatles" songs, so you can really show your moves on the dance floor. So, let's "chill" and look forward to a Great Evening!
Gala Emcee: Fred Lee
Special Guest: Jamie Taras, Director, Community Relations BC Lions
For more details visit www.freshslice.com/cares