Livestock Niagara presents... ROAD WAVES + Riders On The Storm LIVE at the MOOSE & GOOSE! Fri, Dec 10th, 2021 | www.livestockniagara.com
About this event
Livestock Niagara presents...
Friday, December 10th, 2021
MOOSE & GOOSE | 54 Paul De Divitiis Senior Way, Thorold, ON
DOORS: 8:00PM
TICKETS: Online at www.livestockniagara.com or purchase them right off of this event page (powered by Eventbrite!)
featuring...
ROAD WAVES [www.facebook.com/roadwavesband]
"Road Waves is an energetic, soulful, & funky band stemming from the Niagara Region. No two shows are ever the same and are bound to get you off your feet. At every show, Road Waves is reaching for the stars and beyond to see what can be found.
Come and listen to the magic for yourself; accompany them on a wild roller-coaster ride from the macro[universe] to the micro[instruments], looping and spiralling through the vastness of space and time on the melodies of curiosity - their peculiar and idiosyncratic minds constantly unravelling. Feeding off of the energy from the other half of the stage--the audience--is how they achieve the means to articulate their eccentric musings, in turn reciprocating that energy to create a cyclone of excitement, fun, and freedom of thought and emotion."
RIDERS ON THE STORM [https://www.facebook.com/RidersOnTheStormNiagara]
"A Niagara based rock experience that celebrates the music of the Doors."
~
*All COVID-19 Measures in effect.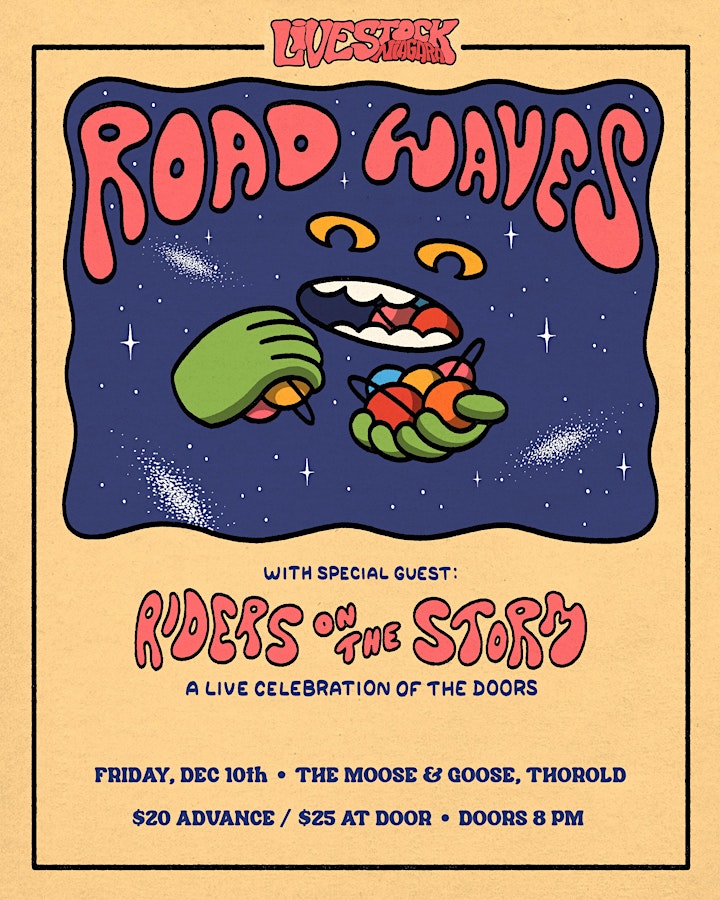 Organizer of Fri, Dec. 10th | ROAD WAVES + Riders On The Storm LIVE at MOOSE & GOOSE