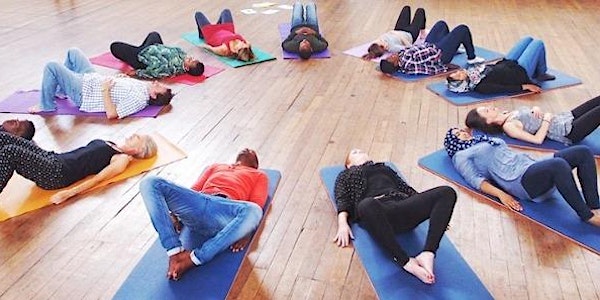 Multiple dates
Friday Frequencies
Join Vibes TRE every Friday evening for a small group shaking session (maximum 5 attendees). End the week on a high note!
Date and time
Fri, Feb 10, 2023 5:00 PM - Fri, Dec 29, 2023 6:00 PM PST
Location
119 W Pender St 119 West Pender Street Vancouver, BC V6B 1S5 Canada
Agenda
5:00 PM - 5:05 PM
Introduction
5:05 PM - 5:20 PM
Grounding exercises
5:20 PM - 5:35 PM
Shaking Time
5:35 PM - 6:00 PM
Debreif
About this event
Tension & Trauma Release Exercises(TRE®) are a simple and accessible, yet powerfully effective way to release stress and grasp wholeness. TRE® is a series of simple exercises that evoke Neurogenic tremors(vibration, shaking) which are a safe and healthy way to discharge stress and calm the nervous system. When the body is able to access safety from within it has an opportunity to soften its disposition and open back up to the fullness of the human experience.
*Disclaimer*
Group sessions are suggested for people who have tried TRE one or more times. This is to ensure your comfort level, and so that you have an idea of how TRE will effect you before you explore the practice around the energy of others.
To book individual sessions visit www.vibestre.ca/book-online to get yourself familiarized with the practice!
Frequently asked questions
Will the class start without me?
About the organizer
Desmond is a Certified TRE Provider and Yoga teacher who specializes in stress management strategies. Desmond is a proponent of life-long learning who was first motivated to explore alternative health practices as a substitute to pharmaceuticals after being diagnosed with severe arthritis in his early 20's. With his regular personal practice of TRE® Desmond was able to dampen severe road-rage and other anger-related issues as well as regain a level of physical autonomy after losing a great deal of mobility post-diagnosis.
All of Desmond's offerings will revolve around the practice of slowing down and being in the present moment. Desmond believes that the only place to heal is in the here and now, and the cultivation of grounded presence and increased self-awareness is essential in this process.