Description
CIM Toronto Branch presents
Felix Lee, 37th President of the Prospectors & Developers Association of Canada
who will be speaking on
Canada's Mineral Industry Competitiveness - An Overview
at The National Club, 303 Bay Street, Toronto, ON M5H 2R1
12:00 noon Registration and Networking Reception / 12:30 p.m. Lunch
1:15 p.m. Presentation / 1:45 p.m. Networking Reception
(Limited Seating Available).
Felix Lee is the 37th President of the Prospectors & Developers Association of Canada. An economic geologist with over 30 years of experience, Felix was recently a Director and Principal Consultant with CSA Global Canada, an international mining and geological consulting firm, where he manages the day-to-day operations of the firm's Toronto office in conjunction with the firm's twelve other offices worldwide. Prior to that Felix was owner and president of Toronto-based mining and geological consultancy, A.C.A. Howe International Limited.
As a consultant, much of Felix's work has involved the provision of independent geological due diligence reports and mineral property valuation opinions to clients wishing to list their company on the stock exchanges, raise financing for their projects, or pursue M&A opportunities. Felix has worked with both major and junior exploration companies, managing and working on grass-roots to advanced-stage exploration projects in North America, Central Europe, South America, Central Asia, Asia, and Africa, involving a variety of deposit types and commodities.
As a Director of the PDAC, Felix has served on the Executive, Governance & Nominating, Human Resource Development, and Membership committees. Much of his 12 years with PDAC has focused on tackling the human resource challenges facing the industry and helping grow PDAC's Student and Early Career Program, including PDAC's Student-Industry Mineral Exploration Workshop (S-IMEW). He has valued the opportunity to work with many of Canada's promising young geoscience students and new graduates and witnessing first-hand their knowledge and understanding of our industry grow.
Felix is a registered Professional Geoscientist (P.Geo.) in the province of Ontario and a member of the Society of Economic Geologists. He received his B.Sc. in Geology from McMaster University, and earned his MBA at York and Northwestern universities.
For Students before the luncheon, MES - CIM Toronto Branch Career Showcase & Networking Seminar will be taking place from 8:30 a.m. to 11:45 a.m. at Scotia Plaza, 40 King Street West, 63rd Floor, Ratcliffe Room, Toronto. More information at https://www.cimmes.org/chapter-events/?event_cat=&chapter=11
Registration is required.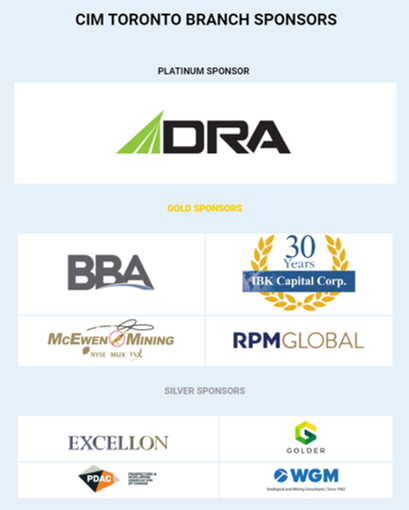 Please note that CIM Toronto membership is separate from CIM National membership.
Cancellations are not permitted within 72 hours of the event.