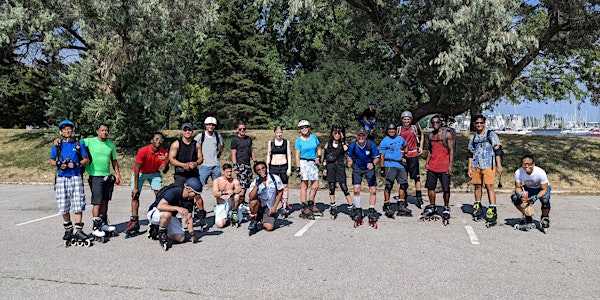 Multiple dates
Friday night skate events (online registration)
We skate Friday nights and sometimes other days. Register your profile to be contacted for events
Date and time
Fri, Mar 17, 2023 4:00 PM - Fri, Nov 24, 2023 6:00 PM PDT
About this event
We skate weekly on Friday nights after 6 pm & sometimes other days.
Register your skater profile with this link here only to be notified or invited to events.
Look at youtube, twitter & instagram first to have a good idea of what we do.
Joining:
Means the acceptance of the following & zero tolerance any type of politics
Season:
Season opens on the 3rd week of March until the last Friday of November, but we still skate all year round, winter included.
Spring time on closed circuit location, then slowly moving into trails starting 2km length and increasing distance on a weekly basis until mid July up to 15~18km in order to build up performance for summer.
By mid July the trail length will be 15 to 20km & in August 20 to 50km.
With less day light, September trail distance will decrease, city skating starts as well as getting back to closed circuit locations for practice.
Groups:
Events:
Golden wheels: Skaters above 50 years of age
General and closed circuit: Everyone (skate parks, rinks, arenas, sports tracks, <10 km etc)
Intermediate and recreational: Distance up to 20 km. Average speed between 12 km/h to 15 km/h
Advanced: Distance above 20 km. Average speed 15 km/h and above
Titans: Distances up to 50 km or more. Average speed 20 km/h and above (invited skaters only)
Skaters will receive email event announcements to their registration profile according to their demonstrated skills, equipment as well as placed on a group that match their peers.
Styles:
Locations:
City trails, woods trails, city/urban skating, pump tracks, sports tracks, hockey rinks and a skate park once a blue moon
Annual events:
Pictures & videos:
Organizers:
Anyone wanting to be an organizer, is required to successfully have hosted/lead at least 3 successful events
Follow & uphold the waiver as well as the code of conduct
Team:
FAQ:
About the organizer
This event aims to bring inline skaters together to build the largest inline skating community in Canada and put Toronto on the map of the largest inline skating sessions in the world like in Paris, London, Sidney, New York, etc.