Multiple Dates
Friends of Africa (FOA2017)-Economic Development Summit
Description
Join us at the 7th Edition of Friends of Africa (FOA)
From October 6, 2017 1:00pm - October 8, 2017 5:00pm
Theme: Entrepreneurs- Building Economic Stamina for Growth
Main Confrence on October 7, 2017
8:00am – 5:05pm


Business Finance Forum
Meet with Global partners, stakeholders, and companies that do business in Africa to:
- Gain new insights on available Investment opportunities
- Identify trading partners and platforms for expansion
- Learn how other businesses succeed in Africa
- Meet new participants and investors in Infrastructure
- Meet with Private/Public sector decision-makers across the globe
Entrepreneur Exchange
Join Private Sector Leaders at Entrepreneur Exchange
Fireside Chat
Discover the Best of Entrepreneurship @FOA2017
Speakers
Public Sector
Rev. Dr. Robert Oliphant-Canada, Member of Parliament, Chair, African Forum,
House of Commons, Canada.
Hon. Brad Duguid-Canada: Minister of Economic Development and Growth
Private Sector
Olutoyin Oyelade-Nigeria: Founding Partner/CEO, InVcap
Julia Deans-Canada: Chief Executive Officer, Futurpreneur, Canada
Sola Oyelade: Principal Architect, Casa Developments
Nate Lowbeer-Lewis: Managing Director, CPCS Development, International.
Marlon Yarde-Barbados: President, Barbados Stock Exchange
Panels/ WorkShops
Entrepreneur Exchange

Business Finance Forum

Economic Development Forum

Fireside Chat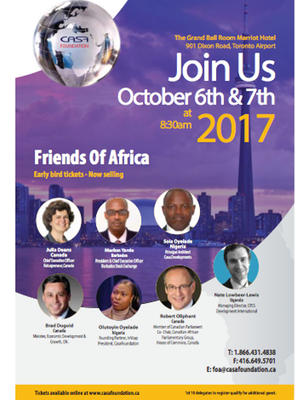 FOA2017 promises to be an exciting platform for the development of business ideas.
You have a Voice - Let it be Heard