From Chaos to Control: The Path to High Performance

Thursday, March 20, 2014 from 10:00 AM to 11:15 AM (PDT)
Event Details
Session Description: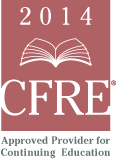 Sharron Batsch has witnessed first-hand how a chaotic approach to the management of donor gift data takes its toll. It's frustrating and yet understandable, as many charities are operating without a knowledge plan and have no management paradigm to draw from. When it comes to data management, chaos doesn't have to be the norm.
This session will help youIdentify areas where chaos lurks 
Troubleshoot common data management issues with practical solutions
Implement improvements that are sustainable
Build a high performance team
Create a work environment that is more productive
Learning outcomes:
Gain control over your donor database

Identify key information to include
Leaders in the Not for Profit field

Executive Directors, 

CEOs, Board members

VP of Fund Development

Anyone who wants to Move from Chaos to Control
 Presenter:Sharon Batsch  
Sharron's background with charities started in 1987 when she developed the first version of @EASE Fund Development Software This donor database is sold across Canada supporting charities with donations of over $70,000,000 annually.
@EASE has incorporated all forms of time saving methods in and it has been through our work with hundreds of fundraisers that we decided a book was necessary. It is our opinion that huge amounts of time is wasted, volumes of good information left unmanaged and that fundraisers need guidance when it comes to understanding information. When you work for a charity you are not in a glorified position, you get down and dirty with your resources and make them work for you.
She has also built many microcomputer custom systems for not for profits and taught at both SAIT and NAIT in their computer technology programs.
Sharron is an experienced presenter, and has developed 200 seminars and short courses and a certificate program related to microcomputers
She has chaired conferences, run workshops, and work on capital campaigns
Sharron graduated with a BSc in Math and Computing Science.
She began her computing career in the oil and gas business in Calgary applications and management for the U of Manitoba, Continuing Education
• Received awards from the Consulting Engineers of Canada in 2001 and the Consulting
Engineers of Alberta in 2002 for our work in Knowledge Management and the system we developed for AD Williams Engineering
Offer courses on Data Mining, Special Events etc to our clients and others
Presented at conferences for the U of M, Petro Canada
• Written my first book From Chaos to Control published this year
Organizer

Helping you realize your mission!