Location
Sidewalk Labs / 307
307 Lake Shore Boulevard East
Toronto, ON M5A 1C1
Canada
Description
** NOTE: Event intended for CPAs and CPA candidates**
Join us for a fireside chat with Nicole LeBlanc, the Director of Investments and Partnerships for Sidewalk Labs (see full bio and company description below). Nicole invests in companies to support Sidewalk Labs' dream of building a connected city. As a CPA herself, Nicole is at the forefront of the changing nature of our designation, as she is tasked with evaluating and determining what companies can best help Sidewalk Labs & Toronto transform our city for the future.
We'll be hosting this event at Sidewalk Labs, which is an amazing space complete with to-scale replicas and examples of the different ways urban innovation is going to take hold. If you're interested in learning more about Nicole's unique CPA path and her role in supporting this one-of-a-kind initiative, please come join us for a wonderful evening of networking, food/drinks & learning!
*Snacks and refreshments will be served during networking.
Bonus: Get a verifiable CPD hour!
Special thanks to Xero, CPA Ontario, and ConnectCPA for sponsoring this event and our #FinInTech initiative!

Agenda for the Evening
6:00 - 7:00pm: Networking and refreshments
7:00 - 7:45pm: Introduction & Fireside Chat
7:45 – 8:00pm: Q&A with Audience
Our Speaker: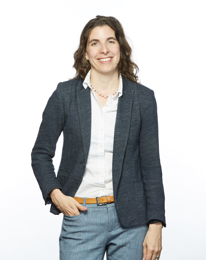 Nicole LeBlanc – Sidewalk Labs
Nicole LeBlanc is Director of Investments and Partnerships for Sidewalk Labs. Before joining Sidewalk, Nicole was a Director at BDC Capital, where she managed the seed stage investments and associated portfolio. She has over 10 years of experience as an investment professional, with a focus on early-stage financing opportunities and ecosystem development. Before joining BDC Nicole was the Director of Finance at NBIF, an East Coast seed fund, and held initial finance & operational roles in several early stage startups.
Nicole began her career as a staff accountant and later controller at Ganong Bros. Ltd., a family-run confectionery manufacturer. She holds a Chartered Professional Accountant designation and is a dynamic member of the Toronto start-up community.
When she is not supporting the tech ecosystem, Nicole can be found hiking off the beaten path and cheering on the Toronto Blue Jays, preferably when the dome is open.
About Sidewalk Labs:
Sidewalk Labs is an Alphabet company tackling the challenges of urban growth. We are currently designing a new kind of mixed-use, complete community on Toronto's waterfront in partnership with the tripartite agency Waterfront Toronto and the local community. This joint effort, called Sidewalk Toronto, will combine forward-thinking urban design and new digital technology to create a people-centered neighborhood that achieves precedent-setting levels of sustainability, affordability, mobility, and economic opportunity.