Location
OneEleven
325 Front Street West
4th Floor
Toronto, ON M5V 2Y1
Canada
Description
This event is part of an ongoing series of LumiQ Live events. LumiQ is an innovative podcast app featuring interesting & relevant conversations with business leaders that count as verifiable CPD for CPAs (www.lumiqCPD.com). Please note; you must have a free trial of the LumiQ app to enter the event and our staff will be checking for it!
** NOTE: Event intended for CPAs and CPA candidates**
Welcome to our first LumiQ Live event, featuring a fireside chat with Colleen Johnston, former CFO of TD Bank Group.
Colleen joined TD Bank 15 years ago, in roles ranging from EVP of Finance Operations to Head of Direct Channels, Technology, Marketing, & Corporate Affairs. Currently, she is operating as the Special Advisor to the CEO. Prior to joining TD, Colleen held senior leadership roles at Scotiabank. She has recently retired to pursue other passions, including sitting on the board of directors of Shopify, WestJet, McCain Foods, Unity Health Toronto, and the Shaw Festival Theatre.
Join us for our chat with Colleen, where we'll get an inside look at her impressive career path, from earning her CPA designation to being elected a Fellow Chartered Accountant in 2006 and Canada's CFO of the year in 2012. She has worked tirelessly to help shape TD as the bank of the future, by understanding customers' needs and the power of innovative FinTech partnerships. While at TD, she solidified their position as Canada's second-largest lender and helped the bank expand operations in the U.S. Colleen has also been recognized for her championship of women, diversity and inclusive leadership, through leading TD's Women in Leadership initiative for over a decade.
If you're interested in learning more about Colleen's unique CPA path, please join us at OneEleven for a wonderful evening of networking, food/drinks & learning!
*Snacks and refreshments will be served during networking.
Bonus: Get a verifiable CPD hour!
Can't make the event? Make sure to check out LumiQ for a recording of the conversation: www.lumiqCPD.com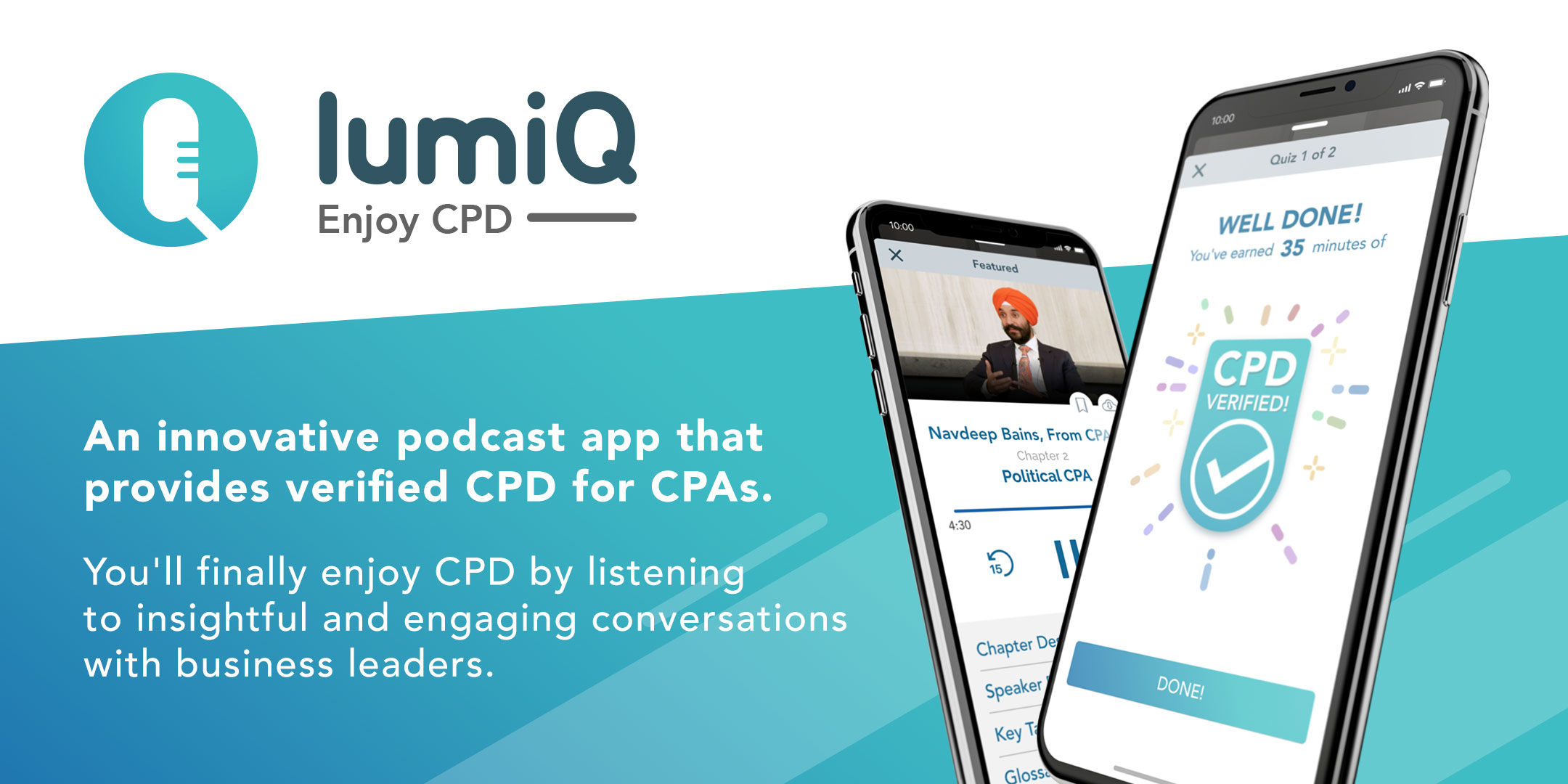 Download your free trial of LumiQ from your App Store


---
About TD Bank:
TD is the sixth largest bank in North America by branches and serves more than 25 million customers in three key businesses operating in a number of locations in financial centres around the globe: Canadian Retail, U.S. Retail, and Wholesale Banking. TD also ranks among the world's leading online financial services firms, with more than 12 million active online and mobile customers. TD had $1.3 trillion in assets on January 31, 2019. The Toronto-Dominion Bank trades under the symbol "TD" on the Toronto and New York Stock Exchanges.