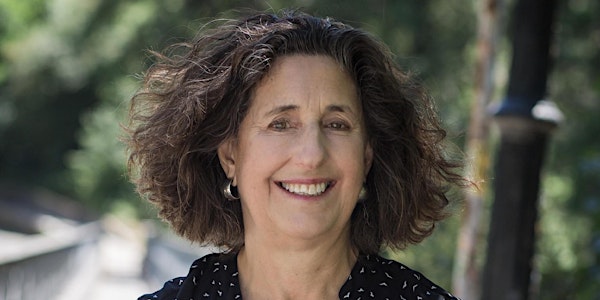 From Dream to Reality: Lessons learned in creating successful communities
From Dream to Reality: Lessons learned in creating successful communities and how to keep costs moderate with Kathryn (Katie) McCamant
About this event
Katie McCamant has worked as an architect, developer, development consultant with dozens of North American communities over the last 35 years. Katie will share some of the lessons learned from working with a wide variety of cohousing groups and specifically, key points to succeeding in creating your community. Bring your questions for Katie as she'll try to leave plenty of time for that.
******
CCN execs decided to pay to increase capacity for large meetings for our 100 participants zoom pro account. The event has increase tickets and is open to all. If you find your ticket type sold out please email cohocan@gmail.com to get more tickets release for your ticket type. We are guessing numbers of each type and might be off.
For ticket type, get a ticket for the event under type General Admission for CCN Community Member if your you know for sure your cohousing community is a member of Canadian Cohousing Network (CCN). If not and you are a cohouser or someone interested to learn about cohousing, please choose one of the 2 non-CCN ticket types that best suit you. If you are a professional working in or interested in cohousing, there are 2 ticket types for professionals/consultants based on CCN Membership.
This event would be recorded and we are planning other webinar(s). Follow us if you want to be informed of other events. There is an optional donation function if you want to contribute to the organization of this and other webinars.
.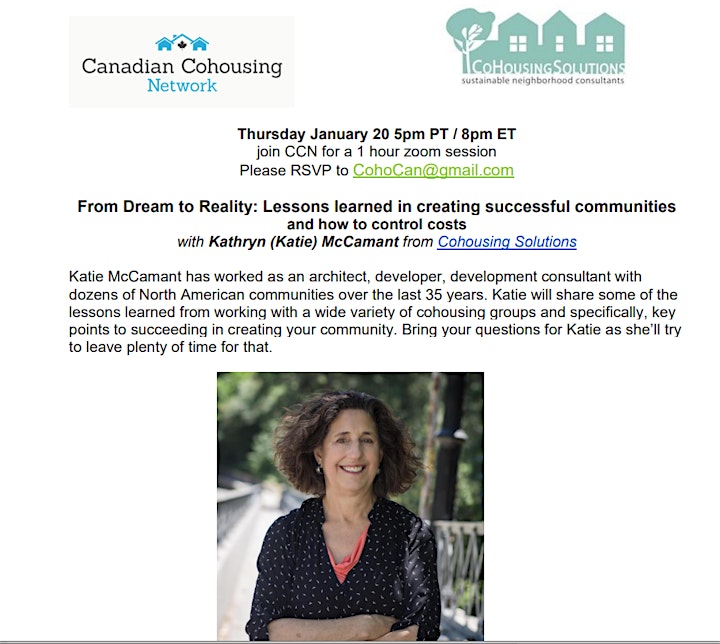 Katie brings the depth and diversity of her 35 years of experience as a developer, architect, and cohousing resident to benefit her clients. Coauthor of Cohousing: A Contemporary Approach to Housing Ourselves, the book that introduced cohousing to North America, and more recently, Creating Cohousing: Building Sustainable Communities, Katie co-founded McCamant & Durrett Architects/The CoHousing Company with Charles Durrett. More recently, she started CoHousing Solutions as a development consulting firm to share best practices and systems for successful collaborative development.
She works with urban, suburban and rural communities all across North America, helping them define and implement their development strategy and build the professional team they need. She also founded the 500 Communities Program to train other professionals to work in this realm. She lived for 12 years at Doyle Street Cohousing in the San Francisco Bay Area, and now lives at Nevada City Cohousing in the Sierra Foothills.