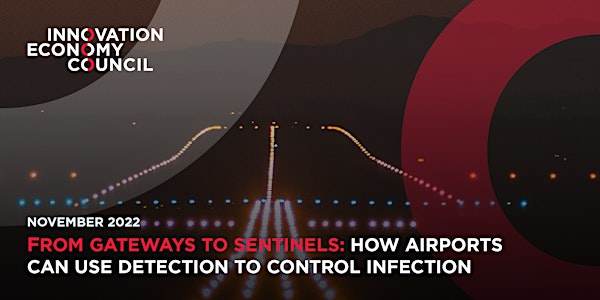 From Gateways to Sentinels: How Airports Can Detect and Control the Spread
AI, bio surveillance and the evolution of the border battle against COVID-19
About this event
A crisis accelerates innovation.
After COVID-19 was first detected in Wuhan in December of 2019, the virus crisscrossed the globe — reaching 29 countries in less than eight weeks. It soon became clear air travel was rapidly fuelling the spread of the virus, and humans weren't the only ones in transit.
Fast forward to today, and innovators are reimagining airports not as porous gateways for viruses to slip through border measures, but as invaluable tools for if — and when — the next pandemic hits.
Two panel conversations will explore the evolution of fighting infection at airports, including:
AI-driven public health systems
Wastewater testing projects
Bio-sensor devices
Air filtration methods
Better building design
Harnessing airport data sources to drive public health policy
Register today to learn more about these innovations and other new approaches to infection control.
DETAILS
November 9, 2022
12:00-1:00 p.m.
Online event only
AGENDA
Two back-to-back panel discussions moderated by Laura Hensley, digital director at Canadian Business.
PANEL 1
Dominik Mertz, Division Director and Associate Professor, Division of Infectious Diseases, McMaster University | Medical Director Infection Prevention & Control, Hamilton Health Sciences
Jim Chung, Chief Medical Officer, Air Canada
Robert Delatolla, Professor, University of Ottawa | Director, Ottawa Carleton Institute for Environmental Engineering
Effie Gournis, Associate Director, Public Health, City of Toronto
PANEL 2
Kamran Khan, Founder and CEO, BlueDot
Nisha Sarveswaran, Co-founder and CEO, Kraken Sense
Mike Williams, Vice-President, Buildings, RWDI
Dwayne Macintosh, Director of Safety and Security, Toronto Pearson International Airport
WHO SHOULD ATTEND
IEC members
Policy makers
Cleantech, health, mobility and transportation, advanced manufacturing and materials and enterprise ventures
Corporate stakeholders
Media
ABOUT THE INNOVATION ECONOMY COUNCIL
The Innovation Economy Council (IEC) is a coalition of tech-sector leaders dedicated to shaping Canada's industrial innovation policy. The IEC works with active members of Canada's innovation ecosystem to identify areas for in-depth analysis and offer timely insights to increase Canadian productivity and sustainable growth.