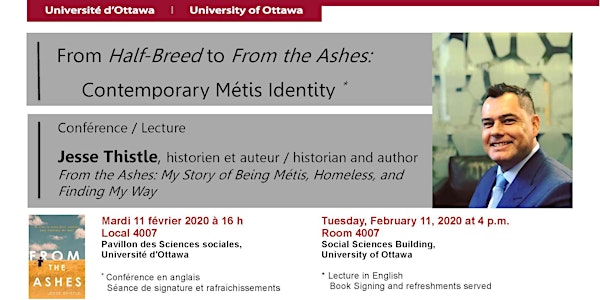 FROM "HALF-BREED" TO "FROM THE ASHES": CONTEMPORARY MÉTIS IDENTITY
FROM "HALF-BREED" TO "FROM THE ASHES": CONTEMPORARY MÉTIS IDENTITY
About this event
The Institute for Indigenous Research and Studies, in partnership with the Department of History and Mashkawazìwogamig: Indigenous Resource Centre (IRC), is pleased to invite you to the lecture by
Prof. Jesse Thistle of York University, entitled
FROM "HALF-BREED" TO "FROM THE ASHES": CONTEMPORARY MÉTIS IDENTITY (*)
Tuesday, February 11, 2020, from 4 to 6 p.m.,
Social Sciences Building, room FSS 4007
University of Ottawa 120, University, Ottawa ON
Jesse Thistle is historian and bestselling author of "From the Ashes: My Story of Being Métis, Homeless, and Finding My Way".
A signing session is scheduled at the end of the conference.
(*) Lecture in English
Event open to all.
Refreshments served.
Organizer of FROM "HALF-BREED" TO "FROM THE ASHES": CONTEMPORARY MÉTIS IDENTITY