Location
St. Matthew's Clubhouse
450 Broadview Avenue
Toronto, ON M4K 2N3
Canada
A safe accessible space where curious, like-minded people can repair, rework & swap clothing while also learning more about "textile waste".
About this event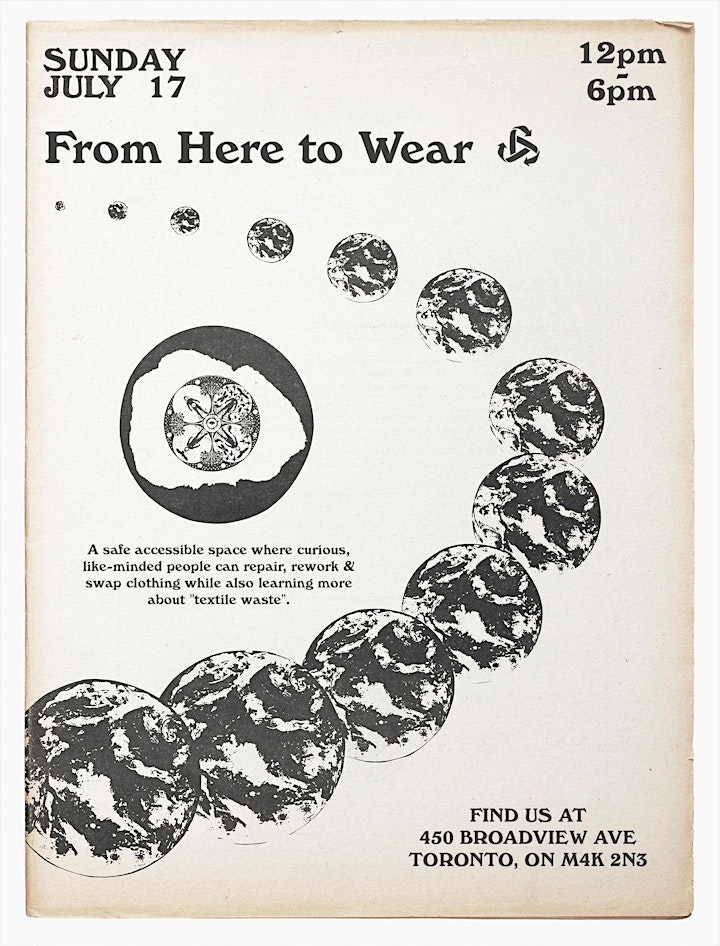 ✦ Welcome to all bodies, identities and ages! Hate and discrimination in any form will not be tolerated! NO BAD VIBES. ✦
This event will create a circular closed loop system for clothing that people no longer want, while promoting a reuse and "waste not, want not" mentality. It will be a fun alternative to shopping and an engaging way to upgrade your wardrobe - a conscious practice on how to be more intentional about the clothes you wear.
You're welcome to bring as much clothing as you can carry - but note that there will be a quality check to determine if your pieces will be for swapping, repairing or ~recycling. ("Is it still in good condition? Would you give this to a friend?" If you answered yes to both, then it'll be perfect for the clothing swap!) *Please wash and dry all clothes beforehand.*
~We will also be accepting and separately collecting "textile waste" which is anything unwearable and beyond repair, they'll be shredded or deconstructed to be repurposed for other uses. *These must be in clean condition as well, we don't want to handle anything unsanitary so be respectful and considerate - please do not treat this as a garbage dump!*
There will be a 'Textile Library Lab' - a mending station where participants can use available sewing machines and salvaged materials to repair / alter their clothing, including an opportunity to learn some sewing skills for simple fixes (ex. how to sew a button, patch holes...etc) and receive guidance or ask any questions.
The pieces that aren't swapped will be sorted and responsibly distributed within the community to local nonprofits / grassroots groups and people who are in most need.
This initiative aims to raise more awareness on the problems surrounding the management of "textile waste" and to help prevent them from being disposed of improperly. Toronto doesn't publicly collect them or have a separate collection (like electronic and household hazardous waste which are more commonly available). While there are private collection bins, more than half of all clothing donations from those along with thrift stores and textile recycling programs are actually exported - reference to Kantamanto Market in Ghana and the Atacama desert in Chile. So after learning about how most of our secondhand clothing ends up overseas where they turn into toxic waste sites (which not only threatens those communities but also contributes to worsening climate change), the goal is to help manage unwanted clothing / textiles in the community and divert them from landfills.
If you have any questions or concerns, please feel free to email Norwin (norwin.anne@live.ca)! ☺
Thank you to Rising Youth, TakingITGlobal, the Government of Canada, and Canada Service Corps for generously supporting this project!
Also thank you to East End Arts for providing the venue space to host this event at St. Matthew's Clubhouse!
LAND ACKNOWLEDGEMENT
East End Arts acknowledges that our work takes place on the traditional territory of many nations including the Mississaugas of the Credit, the Anishnabeg, the Chippewa, the Haudenosaunee and the Wendat peoples. East Toronto is now home to many diverse First Nations, Inuit and Métis peoples. We also acknowledge that Toronto is covered by Treaty 13 signed with the Mississaugas of the Credit, and the Williams Treaties signed with multiple Mississaugas and Chippewa bands.
In keeping with those treaties, East End Arts is committed to the ongoing stewardship of this land. One of the ways we do this is by striving to create waste free programming, and we encourage those of you working in our shared spaces (like parks) to do the same. Another of the ways we do this is by encouraging the telling of stories and the making of art that engages directly with the landscape in our neighbourhoods, because we know that a greater understanding of that landscape will lead to a greater respect for the traditional stewards of this land, to whom we are so deeply indebted.
SPECIAL CONSIDERATIONS FOR COVID-19
Following Ontario public health guidelines, masks are no longer mandatory inside St. Matthew's Clubhouse, however we continue to operate a mask-friendly space, and we welcome all visitors, employees and volunteers to wear them.
We continue to ask all of our participants and visitors to practice social distancing, when and where possible. Hand sanitizer and masks will be available on site for anyone who needs them.
If you feel at all unwell, please stay home and let us know about your absence as soon as possible by contacting norwin.anne@live.ca to cancel your ticket.
CANCELLATIONS
We understand that from time to time, things happen and plans change. If you feel unwell or simply can't make it anymore, please email norwin.anne@live.ca so that a spot can open up for someone else who would like to attend and / or may be on the waitlist.
DIRECTIONS & PARKING
The closest subway station is Broadview station.
The closest bus is the 505 Dundas, which will drop you off at Broadview Ave / Langley Ave.
The closest streetcars are the 504 King, which will drop you off at Broadview Ave / Langley Ave, or the 506 College, which will drop you off at Gerrard St. East / Broadview Ave.
There are bike rings out front to accommodate your bike if you choose to cycle to the Clubhouse.
Please note that there is no public parking available at St. Matthew's Clubhouse. Metered parking is available on the surrounding residential streets. Be sure to read the posted street signs to avoid being ticketed or towed. Also note that there are paid parking lots at Bridgepoint Hospital.