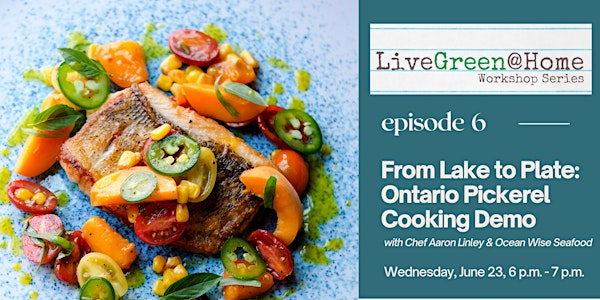 From Lake to Plate: Ontario Pickerel Cooking Demo
Learn to cook local Ontario pickerel with Executive Chef Aaron Linley of Pure Spirits Oyster House & Grill in The Distillery District.
Date and time
Wed, Jun 23, 2021 3:00 PM - 4:00 PM PDT
About this event
In celebration of World Oceans Month and Ocean Wise Seafood's Campaign to Help End Overfishing, Executive Chef Aaron Linley of Pure Spirits Oyster House & Grill in The Distillery District is sharing an exclusive Ontario pickerel recipe you can make from home! The Distillery Restaurants Corp has been a leader in providing local and sustainable options to Torontonians for many years and are influential in our city's sustainable seafood movement.
Join us on Wednesday, June 23rd at 6PM for an educational, at-home cooking session with Chef Aaron, featuring an informative sustainable seafood introduction hosted by Erika Bolliger, Accounts Coordinator for the Ocean Wise Seafood program.
About Chef Aaron Linley, Pure Spirits Oyster House & Grill
Aaron Linley dreamed of being a chef at 18, but attempted his first recipe long before that, at age 12 with Deep-Fried Fish from the television show, Wok With Yan.
STRATFORD
Born and raised in Stratford, Ontario, Linley headed to one of the best training grounds in Canada - Stratford Chefs School. With class in session during the winter months, summers were spent apprenticing at legendary modern fine dining restaurant Rundles, open for 41 years until doors closed September 2017 (Owner James Morrison also ran the school at the time).
Starting out on the floor as a food runner, Linley's apprenticeship extended into six years. "I liked the energy, the feel, the food," he says. He stayed on at school too - this time as instructor (cool fact: many well-known Toronto chefs were his students).
ON THE ROAD
His passion for "constant learning" and travel led him to Toronto's famed Scaramouche, a stage at Oliveto restaurant in California, with Chef Paul Bertolli of Chez Panisse fame (Rundles had sent students there as part of their training), and six months working with Chef Michael Smith, host of many television shows including Chef at Home, Chef at Large, and Chopped Canada.
HOME SWEET HOME
After years of travel (Hong Kong, Thailand, China, most of western Europe, South America, Peru, New York, Chicago and "magical" Vietnam), Linley felt the pull back to his hometown.
He and wife Bronwyn - whom he met in chef school - opened Bijou in Stratford in 2001. Shopping for local ingredients daily at the market - "an important part of the process, " the well- regarded farm-to-table restaurant saw great success by the discerning theatre crowd under their tutelage.
They sold it in 2015 and created a similar achievement with their food at The Bruce Hotel for the next two years.
About Erika Bolliger, Ocean Wise Seafood
Erika Bolliger joined the Ocean Wise Seafood team in 2019, starting as a Program Assistant and working her way up to an Accounts Coordinator where she now manages Ocean Wise Seafood partner relationships across Eastern Canada and supports their sustainable sourcing. She has been responsible for coordinating Toronto's first ever sustainable seafood walking tour and is the creator and editor of the interactive digital cookbook Cooking for Conservation: Restorative Seafood Recipes Designed to Support Healthy Oceans, with 100% of proceeds donated to the Ocean Wise Seafood program. Erika graduated from the University of Toronto with an Honours Bachelor of Science, majoring in Biodiversity and Conservation Biology. She is an accomplished public speaker and puts her skills and energy into connecting others with simple ways they can incorporate sustainability into their lifestyle, while accumulating positive pressure for large-scale, lasting change for our planet.
About the organizer
Live Green Toronto is a program of the City of Toronto that helps residents and businesses in Toronto go green with a one-stop website, grants, events and much more!