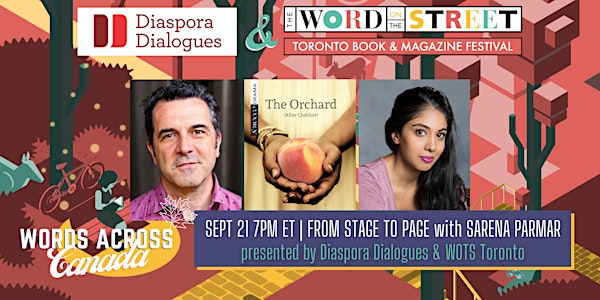 From Stage to Page: In Conversation with Sarena Parmar
Guillermo Verdecchia speaks with Sarena Parmar about her play The Orchard. Presented by Diaspora Dialogues & The Word On The Street.
Refund Policy
Contact the organizer to request a refund.
Eventbrite's fee is nonrefundable.
About this event
Guillermo Verdecchia interviews playwright Sarena Parmar about her play The Orchard (After Chekhov), an adaptation of Chekhov's The Cherry Orchard, told through the lens of a Punjabi-Sikh family in the Okanagan Valley.
Visit Another Story Bookshop to shop for Words Across Canada series books including The Orchard (After Chekhov).
About the Presenters
Sarena Parmar's The Orchard (After Chekhov) is an adaptation of Chekhov's The Cherry Orchard, told through the lens of a Punjabi-Sikh family in the Okanagan Valley. With the bank calling and money low, will the Basrans be able to save their beloved orchard? The Orchard challenges our idea of what rural Canada looked and sounded like in the 1970s, offering a fresh perspective on our history, and a subversive look at ethnicity within the classical western canon. Inspired by the playwright's own childhood, this fresh adaptation confronts life, loss, and the Canadian immigrant experience with humour and beauty. The Orchard (After Chekhov) premiered at the Shaw Festival and was developed through DD's Playwrights in Residency Program. It was published by J. G. Shillingford Publishing in July 2020.
Guillermo Verdecchia is a writer of drama, fiction, and film; a director, dramaturge, actor, and translator whose work has been seen and heard on stages, screens, and radios across the country and around the globe. The author, or co-author, of, among other works, The Noam Chomsky Lectures and Insomnia (with Daniel Brooks); Fronteras Americanas, The Terrible but Incomplete Journals of John D., bloom; A Line in the Sand (with Marcus Youssef), and the controversial Adventures of Ali and Ali and the aXes of Evil (with Camyar Chai and Marcus Youssef). He is a recipient of the Governor General's Award for Drama, a four-time winner of the Chalmers Canadian Play Award, a recipient of Dora and Jessie Awards, and sundry film festival awards for his film Crucero/Crossroads, based on Fronteras Americanas and made with Ramiro Puerta.
Presented By

From September 10-27, Words Across Canada presents Canadian and Indigenous authors from across the country. This Words Across Canada event is presented by The Word On The Street Toronto in partnership with Diaspora Dialogues.
Diaspora Dialogues (DD) supports emerging writers to turn their craft into a career through mentorship, professional development and opportunities to publish and present their work. Our mentoring programs are the most successful in the country for alumni getting published. More than 750 writers/artists have participated as mentors or mentees, emerging playwrights or dramaturges, commissioned artists or panelists, readers or performers. 450+ new literary works have been created through DD programs, 300 events produced and a live audience well in excess of 150,000 Canadians has attended those events. DD also publishes TOK Magazine, an online platform for fiercely honest, freshly original writing and convenes TOK Symposiums, multi-day events for readers and writers which combine author talks and professional development seminars.
The Word On The Street is an annual celebration of storytelling, ideas and imagination, hosting Canada's largest FREE book and magazine festival each September and promoting great books by Canadian and Indigenous authors year-round.