Description
From Start To Finish: The Creative Process.
This session will explore how I move through my creative personal practice and explore other methods as well.
In this session, you will learn:
* How to track/document what inspires you.
* How to blend your inspirations to make something new.
* Finding your creative flow.
---
About Anthony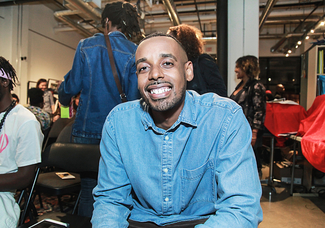 Anthony Gebrehiwot is a passionate photographer, community leader and social entrepreneur whose creative lens re-visions photography as an ongoing dialogue of social change between subject and society.
A self-taught photographer, Gebrehiwot founded XvXy-photo focusing on studio portraiture, and has to date, worked with some of Canada's most prolific instigators including Che Kothari, d'bi.young anitafrika, Kardinal Offishal, Donovan Bailey and Emmanuel Jal.
---
What is Spotlight?
We know that staying up to date on today's big ideas and tomorrow's big trends is a job in and of itself.
As the world's first working, learning and growing store – we are excited to introducing Spotlight: a new community gathering and learning space. Spotlight will engage communities with knowledgeable experts to both inspire, inform, motivate and educate.
Spotlight is a space accessible to persons that use mobility devices. We encourage people from all backgrounds to participate in our public programming.