"From Surviving to Thriving: Taking Action to Address Economic Abuse
"From Surviving to Thriving: Taking Action to Address Economic Abuse in Canada"
About this event
"From Surviving to Thriving: Taking Action to Address Economic Abuse in Canada"
On November 26th, Economic Abuse and Injustice Awareness Day, the Canadian Center for Women's Empowerment (CCFWE) invites you to join the panel discussion about economic abuse - a common element of domestic abuse that is not part of the current conversation in Canada.
As November is National Domestic Violence Awareness Month and National Financial Literacy Month, the panel will shed light on the current global climate of financial and economic injustice and highlight ways the Canadian government and civil society can take active steps to assist survivors of economic abuse to help them thrive again.
Dr. Nicole Sharp-Jeffs, founder and CEO of Surviving Economic Abuse will join five other representatives from the government, survivors and civil society organisations to share their experiences and expertise in the ecosystem. The discussion will be framed along three key themes:
- Part A – Research, and Lived Experiences - Understanding economic abuse and its urgency
- Part B – Recognition and Action – Taking action against economic abuse
- Part C – End and Prevention - Imagining a better future without economic abuse
Speakers :
Anita Vandenbeld - Member of Parliament for Ottawa West - Nepean, Canada
Ms. Vandenbeld is an international expert on democracy and human rights and currently serves as the Parliamentary Secretary to the Minister of National Defence. She is also a member of the House of Commons Standing Committee on National Defence and the Subcommittee on International Human Rights. From 2015 to September 2018, Ms. Vandenbeld chaired the Parliamentary Women's Caucus and also served on the Committee on the Status of Women and the Procedure and House Affairs Committee. Prior to her election to the Canadian House of Commons, Ms. Vandenbeld worked for over a decade in international democratic development and women's political participation. She has a Masters Degree in Constitutional and Political History from York University.
Dr. Nicola Sharp-Jeffs - Founder and Chief Executive, Surviving Economic Abuse
Nicola is an expert in economic abuse as it occurs within the context of coercive control. She has worked in the violence against women and girls (VAWG) sector since 2006 in policy-influencing and research roles. In 2016, Nicola was made a Winston Churchill Fellow and travelled to the United States and Australia to explore innovative responses to economic abuse. It was her determination to ensure that women in the UK have access to the same responses that led her to establish Surviving Economic Abuse (SEA). Nicola is also an Emeritus Research Fellow in the Child and Woman Abuse Studies Unit (CWASU), London Metropolitan University and a Visiting Senior Fellow in Social Policy at the School of Law and Social Sciences, University of Suffolk.
Autumn Rock - Trauma, recovery and resilience specialist. Author, speaker and producer of Women who Inspire Conference
Autumn Rock is a Strategic Interventionist, Life and Recovery coach who specializes in diversity, equity and inclusion. She is the CEO and founder of Rock Life and Success Strategies and assists individuals and organizations in empowering themselves and others. Autumn overcame her own addictions twenty years ago and fought a subsequent battle with PTSD from domestic violence and abuse. Autumn is trained in leadership, addictions interventions, gender based analysis, neuro linguistic programming, and holds life and recovery coaching certificates through the International Association of Recovery Coaches, Net Institute as well as a special She Recovers Coach designation. She is the Pride Society President for her area and serves as an advisor to the board for Canadian Center For Women's Empowerment and is the co-founder and producer of The Women Who Inspire Conference.
Eva Coldwell - survivor of economic abuse
Eva's Indigenous name is Nde taj Cougar Kwe, Heart of Cougar Woman. She is Mohawk, Iroquois, and Abenaki. Eva is a traditional, full hide dancer and hand drum singer. She has suffered abuse of all forms since she was 3 years old and continues to suffer from financial abuse at the hands of her ex husband with whom she is no longer with.
Erin Leigh - Executive Director of the Ottawa Coalition to End Violence Against Women (OCTEVAW)
Erin has a long history of working on intersectional feminist issues locally, nationally and internationally. Prior to her role at OCTEVAW, she worked with Status of Women Canada, the UK Women's Budget Group, Oxfam Great Britain and the Association for Women's Rights in Development (AWID). She is also the founder of Ladyfest Ottawa's Rock Camp for Girls and creator and co-founding member of the Bourses Tontine Awards of Ottawa-Gatineau, a micro-grant for women and gender diverse people engaged in creative community projects.
Marc Hull Jacquin - Founder, ShelterMovers
Marc founded Shelter Movers in Toronto, Canada, in 2016 while on parental leave with his daughter. After learning of the pervasiveness of violence against women in Canada, Marc identified a critical gap in services to survivors: Helping women and children leave their abuser safely, without losing all they own. In collaboration with shelter managers, local businesses, volunteers and survivors, Marc developed a concept for a free moving service for people fleeing violence.Marc believes Shelter Movers can offer a practical way for more men to demonstrate allyship in the movement to end violence against women in Canada and elsewhere. He holds a master's degree in Anthropology and an unfinished Law degree he may, one day, get around to completing.
Moderators
Samantha Bokma, Policy and Research Director, CCFWE, Gatineau, Quebec
Niha Shahzad, CCFWE Board of Directors and Research Lead - Economic Justice, Toronto
Space is limited; reserve your spot today.
For more information about economic abuse, the #HelpUsRise awareness campaign, and financial literacy webinars and resources for survivors, please visit www.ccfwe.org
If you have any questions email info@ccfwe.org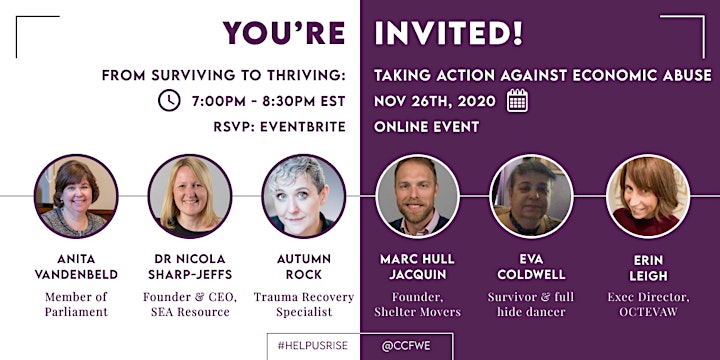 Organizer of "From Surviving to Thriving: Taking Action to Address Economic Abuse