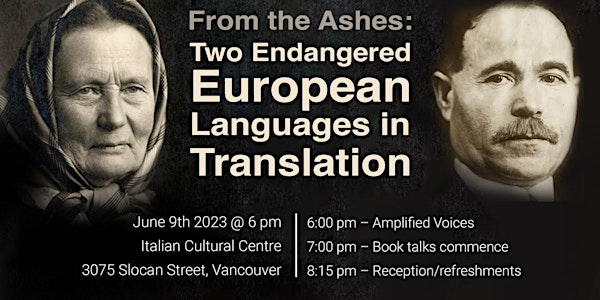 From the Ashes: Two Endangered European Languages in Translation
A literary reading featuring two authors that were champions of women, workers, and languages.
By Lithuanians of British Columbia
Date and time
Fri, Jun 9, 2023 7:00 PM - 9:00 PM PDT
Location
Italian Cultural Centre 3075 Slocan Street Vancouver, BC V5M 3E4 Canada
About this event
In today's era of "cancel culture" and book bannings, we must look to history for learning and inspiration. During the nineteenth and twentieth centuries, many European languages and literatures came under attack. Lithuanian was suppressed by Russian and later Soviet occupiers. Yiddish was virtually eradicated from European soil when most of its speakers, East European Jews, were murdered during the Holocaust.
Maryte Racys and Rachel Mines, members of the Lithuanian Community of BC, will give paired readings of two authors they have translated. Julija Zymantiene (popularly known as Zemaite), a Lithuanian author, feminist, and champion of worker's rights; Jonah Rosenfeld, a Ukraine-born, self-educated writer of Yiddish short fiction. Both authors were known during and after their lifetimes for their support of disenfranchised people and also for the fine literary quality of their writings.
Admission is FREE, donations to cover the cost of the event will be accepted with gratitude. Reception to follow after the talk.
The books can be purchased for $30, profits will go to the Maple Hope Foundation, which provides medical support and other assistance to Ukraine (https://www/maplehopefoundation.org)