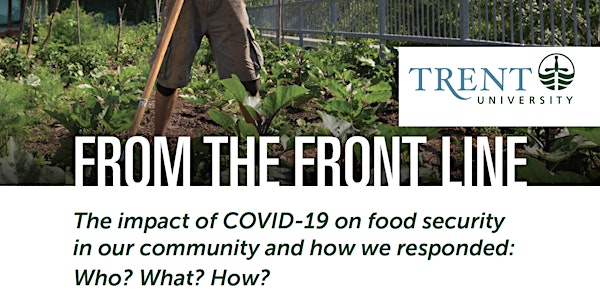 From the Front Line: The Impact of COVID 19 on Peterborough's Food System
From the Front Line: The impact of COVID-19 on food security in our community and how we responded: Who? What? How?
About this event
Covid-19 has layered on challenges to already struggling eaters and growers in our region, while putting additional demands on the service providers and volunteers that support the 16% of our community that is food insecure in normal times.
Join local food system leaders and Trent University researchers as we shed light on the impact of the first six months of the pandemic on our community and on the initiatives that feed us.
Featruring:
Joëlle Favreau – YWCA/Nourish
Lauren Kennedy – Peterborough Public Health
Pat Learmonth – Farms at Work
Lori Sainte – Peterborough Gleans
Zoom link: https://trentu.zoom.us/j/98763304620?pwd=K0I3RGFIU2ljQmpyNzdOck9zMS95Zz09