From the Quantum to the Cosmos

Wednesday, 7 May 2014 from 7:00 PM to 8:30 PM (PDT)
Event Details

The event is SOLD OUT

Note that this Public Lecture will be webcast LIVE in High Definition!  If you prefer to watch the event from the comfort of your home, please click the link below (opens new window, requires silverlight plugin):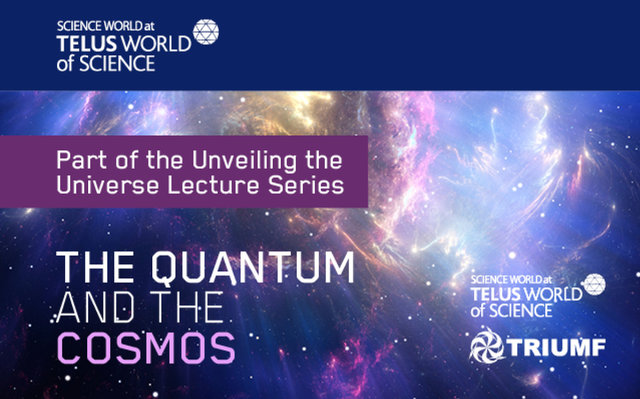 Join us for a special lecture on Wednesday, May 7, at Science World at TELUS World of Science.  Doors open at 6:15pm and the lecture begins at 7pm.
Join Science World and TRIUMF in welcoming Professor Edward "Rocky" Kolb, the Arthur Holly Compton Distinguished Service Professor of Astronomy and Astrophysics at the University of Chicago, for his lecture on how the laws of quantum physics at the tiniest distances relate to structures in the universe at the largest scales. He also will highlight recent spectacular results into the nature of the Big Bang from the orbiting Planck satellite and the South Pole-based BICEP2 telescope. The lecture will be followed by an audience Q&A session.
---
Professor Kolb is a Fellow of the American Academy of Arts and Sciences and a Fellow of the American Physical Society. He was the recipient of the 2003 Oersted Medal of the American Association of Physics Teachers for notable contributions to the teaching of physics, the 1993 Quantrell Prize for teaching excellence at the University of Chicago, and the 2009 Excellence in Teaching Award from the Graham School of the University of Chicago. His book for the general public, Blind Watchers of the Sky, received the 1996 Emme Award of the American Aeronautical Society. He has traveled the world, if not yet the Universe, giving scientific and public lectures, and has appeared in several television productions, most recently interviewing Stephen Hawking for the Discovery Channel. He can also be seen in the IMAX film the Cosmic Voyage
---
Tickets are free, but registration is required.
Seats in the OmniMax Theatre will be allotted on a first arriving, first served basis.   Remaining guests will view the lecture HD simulcast in the Science Theatre, where the speaker will go to take questions after finishing the Q&A in the OmniMax theatre.
---
When & Where

Science World at TELUS World of Science
1455 Quebec St
Vancouver, BC V6A 3Z7
Canada

Wednesday, 7 May 2014 from 7:00 PM to 8:30 PM (PDT)
Add to my calendar