Description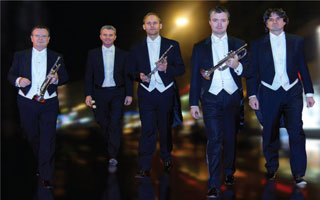 From Vienna: Leohnard Leeb and Trumpets in Concert
Programme entitled: "Breath of Silence"
Vienna's renowned Leonhard Leeb and Trumpets in Concert make a stop on their world tour for a concert at Ottaw's historic St. Bartholomew's Church. The ensemble brings their Breath of Silence programme, that tests the sonic and emotional limits of the beloved brass instrument! Artists Bernhard Macheiner on St Bart's acclaimed Létourneau pipe organ, Fabio Kapeller on percussion, trumpeters Leonhard Leeb, Manuel Lichtenwöhrer, and Siegfried Koch, present works by Haydn and Vivaldi and contemporary compositions by Macheiner and Leeb. The ensemble has appeared at festivals and concert halls throughout Europe, including a visit to the London Proms. Leonhard Leeb and Trumpets in Concert will inspire and energize Ottawa brass and organ fans!
Saturday, November 19, 2016 at 7:30 pm
Church of St. Bartholomew - 125 MacKay Street, Ottawa
Tickets: $20 (general), $10 (student)
- Ticket price includes post lecture reception.-
Sponsored by: