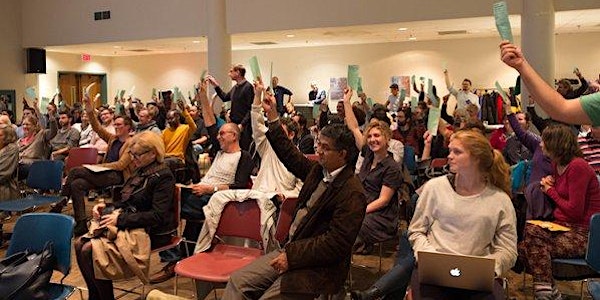 From Visions to Actions for building community wealth in Parkdale
Event Information
Location
Bonar Parkdale 250 Dunn Avenue (23rd Mon and 26th Thur)
Parkdale Library 1303 Queen Street West (28th Sat)
Toronto, Ontario
Canada
Description
Join participatory planning workshop to create a Parkdale Neighbourhood Plan!

Parkdale is one of the few remaining socially, economically and culturally mixed neighbourhoods in downtown Toronto. However, Parkdale is changing rapidly under huge pressures from real estate reinvestment. This change raise a question of diversity, inclusivity and affordability, values that lie at the heart of Parkdale.
This is why a collaborative group of community agencies, groups and residents have been initiating community-based planning initiative in Parkdale, called Parkdale Community Economic Development Planning project. The goal of the project is to develop a Neighbourhood Plan for Parkdale, one that can help guide neighbourhood change according to long-term community needs and goals for building shared community wealth.
PCED team has been conducting an extensive community engagement and consultation process – such as Parkdale Wellbeing Indicator workshop and Community Needs & Assets Mapping workshop. These participatory processes have helped us hear and identify key visions, priorities, and directions for the future of Parkdale that we want to create together.
As the next step, we would like to discuss how we can move from "collective visions" that we have identified to "community actions" that we can work on together. The session focuses on discussing concrete goals and actions in a range of areas such as:

affordable housing,

community-based financing

participatory local decision-making

decent work

health and food security

cultural development



Please join us to be part of community-based planning process in Parkdale! We would like to hear new ideas and good practices that you have for Parkdale. We will also discuss ideas for emerging initiatives such as Parkdale Neighbourhood Land Trust, Co-op Cred program, and others.
We have the following three dates and times for this round of participatory workshop.
November 23 Monday 6:00-8:30 at Bonar Parkdale (

250 Dunn Ave

)


November 26 Thursday 2:00-4:30 at Bonar Parkdale (

250 Dunn Ave

)


November 28 Saturday 1:30-4:00 at Parkdale Public Library Auditorium
Location
Bonar Parkdale 250 Dunn Avenue (23rd Mon and 26th Thur)
Parkdale Library 1303 Queen Street West (28th Sat)
Toronto, Ontario
Canada