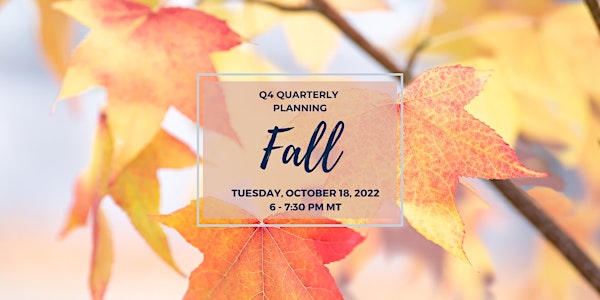 FRONTIER LEADERSHIP: Q4 QUARTERLY PLANNING FALL SESSION [VIRTUAL]
This event is where values based leadership meets values based living! Start the fourth quarter of 2022 with more personal effectiveness!
About this event
Join us for Q4 "Fall Rejuvenation" Quarterly Planning!
Integrating life and career can be challenging. Set time aside and join a group of intimate women to create the vision and life you want to live!
Quarterly Planning has one sole purpose: to create and set up a track that will help you discover, measure, and reach your goals. Attend this event and learn how to:
Make yourself a priority (time, energy, little things, big things)
Create a structure to integrate and support work, business, and life goals
Effectively use a quarterly planning calendar
Experience a higher quality of life
You will receive practical tools, tactics, and templates to help organize and plan your year by attending this workshop.
Let's get back to our foundations and alignment of career and life goals through the practice of Quarterly Planning exercises. Attend this event and meet other amazing women in our community.
What to learn more: 5 Reasons Why You Should Attend Quarterly Planning