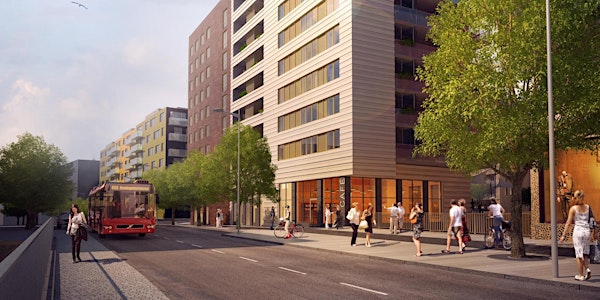 Frukostmöte: Hur kommunicera hållbart resande till bostadsköpare?
By Innovativ Parkering: Trafikutredningsbyrån AB, KTH mfl
Date and time
Wednesday, September 23, 2015 · 9 - 10am CEST
Location
Piperska muren Scheelegatan 14 112 28 Stockholm Sweden
Description
Nya krav på bostadsbyggandet i Stockholms- och Uppsalaregionen
Tillväxten i regionen ökar kraven på ekonomiskt effektiva mobilitets- och parkeringslösningar i bostads- och stadsbyggande. Allt oftare förs flexibla parkeringstal fram som en viktig dellösning på regionens bostadsutmaningar.
Inbjudan till frukostmöte
Välkommen till att lyssna på hur hållbart resande och nya botjänster som bilpooler och hållbart resande marknadsförs till de som köper eller hyr nya bostäder.
Gå på seminariet om du:
Arbetar med flexibla parkeringstal på kommun (gröna parkeringstal).

Är folkvald och vill veta mer om värdet av marknadsföring av kollektivtrafik, cykel och nya restjänster gentemot specifika målgrupper.

Är byggherre som vill integrera t.ex. bilpooler som tjänst i nya hus eller säljer hus med hållbar profil.
Martin Higgit, JMP Consultants Ltd berättar om Personal Travel Planning (PTP) som är ett sätt för att möta kunderna att prata om mobilitet och resvanor, som används av både väghållare och byggherrar i Storbritannien. PTP är en etablerad del av transportpolitiken i Storbritannien för att lösa trafikproblem när städer växer. En fråga som lyfts är om bostadsköpare är en lämplig målgrupp för PTP i Stockholm. Martin är en av Storbritanniens mest erfarna projektledare inom området.
Seminariet är på engelska och inleds med en kort introduktion om Flexibla Parkeringstals roll för ett ökat och förbättrat bostads- och stadsbyggande. För introduktionen svarar Jonas Åkerman, KTH och Pelle Envall, Trafikutredningsbyrån.
Enklare frukost serveras 08.30 - 09.00.
About the organizer
Seminariet arrangeras inom projektet Innovativ Parkering där KTH, Stockholms stad, NCC, Riksbyggen, Trafikutredningsbyrån AB, WSP, ShowPark, Haninge kommun och Uppsala Parkering AB samverkar. Samordnande part för seminariet är Trafikutredningsbyrån AB. Projektet stöds av Vinnova.

Frågor om seminariet besvaras av Åsa Nyblom, Trafikutredningsbyrån. Tel. 072 506 44 09.
Mer info om Innovativ Parkering: www.innpark.se