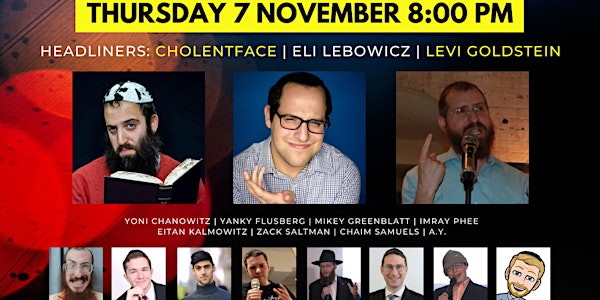 Frumprov! Comedy night for Men
Date and time
Thu, Nov 7, 2019 8:00 PM - 11:00 PM EST
Location
Friendship Circle of Brooklyn 540 East New York Av Brooklyn, NY 11225
Description
COMING TO CROWN HEIGHTS!!!
Finally a place for Frum men to hang out and relax on a Thursday night with Kosher entertainment!
WHAT IS FRUMPROV?
The goal of Frumprov is to promote local Frum comics and give them a platform to test out new material as well as to provide kosher entertainment to an audience that may not be comfortable in a non-Jewish setting.
TELL ME ABOUT THIS EVENT!
On Thursday, November 7th, Frum men are welcome to come hear from New York, New Jersey, and Montreal's finest Frum stand up comics in the heart of Crown Heights. A fine selection of beer will be available. Plus some Farbeisin, of course.
WHO ARE THE HEADLINERS?
Eli Lebowicz is a standup comedian originally from Chicago, who now lives in New York City.
He started performing standup comedy while attending Yeshiva University. There, he won the school's annual standup comedy contest in 2009, and was the Co-Creator and Head Writer for The Quipster, Yeshiva University's first satire publication. Since then, Eli has been performing at comedy clubs in New York City, college campuses along the East Coast, synagogue dinners, Passover programs, and Jewish events where there's food. Some may find Eli's material a bit too Jewish, but with a name like "Eli Lebowicz," he wasn't really trying to hide that anyway.
Cholentface is a standup comedian and a regular at Canadian comedy clubs. He has performed as a comedian and juggler across Canada, the United States, and in Mexico and Australia. He once served as a He runs a popular Twitter account, and is also active on Instagram and Facebook. All other social media platform are inaccessible on his Badatz Kosherphone. He lives in Montreal.
Levi Goldstein is a master stand up comedian and impressionist. He lives in Montreal and is always the highlight of each Frumprov event.
WHO ELSE WILL BE PERFORMING?
Yoni Chanowitz is a South American comic and phenomenal wax artist. Seriously, the stuff he makes looks amazing. This will mark his second time performing at Frumprov.
Yanky Flusberg is a comedian, entertainer, and radio host based out of New York City. This will be his second performance at Frumprov.
Mikey Greenblatt is an actor, improvisor, and stand up comedian. Mikey lives in New York, where he regularly performs with the improv troupe Rufus Khan and the sketch group Straw Man Collective. This will be his second performance at Frumprov.
Imray Phee has done stand up at every Frumprov event and in a Manhattan club. During the day, he works as a software engineer or something like that, and at night he teaches kids to hack into governments and banks. He lives in Montreal.
Eitan Kalmowitz is a Baal Teshuvah Tzfati Detroiter and a hilarious stand up comedian. This will mark his second time performing at Frumprov.
Zack Saltman is an actor, script-writer, and comedian. Zack runs a very popular Instagram comedy account. This will be his first time performing at Frumprov.
Chaim Samuels is an experienced stand-up comedian who regularly performs at the Broadway Comedy Club in NYC. Find him on Youtube at "Lonelyboy Reactions."
AY will be performing stand up comedy for the first time at the Frumprov in Crown Heights. He runs a popular Frum comedy account on Twitter @aimhumor
WHAT ARE THE RULES OF THIS EVENT?
All content is Jewish, kosher, and original. No filming allowed during the event.
WHERE DO I GET TICKETS?
Frumprov.com
I WANT TO PERFORM TOO. WHERE DO I REGISTER?
Registration is closed. Reach out to Zvi to be informed about future Frumprov events at 438-765-2984.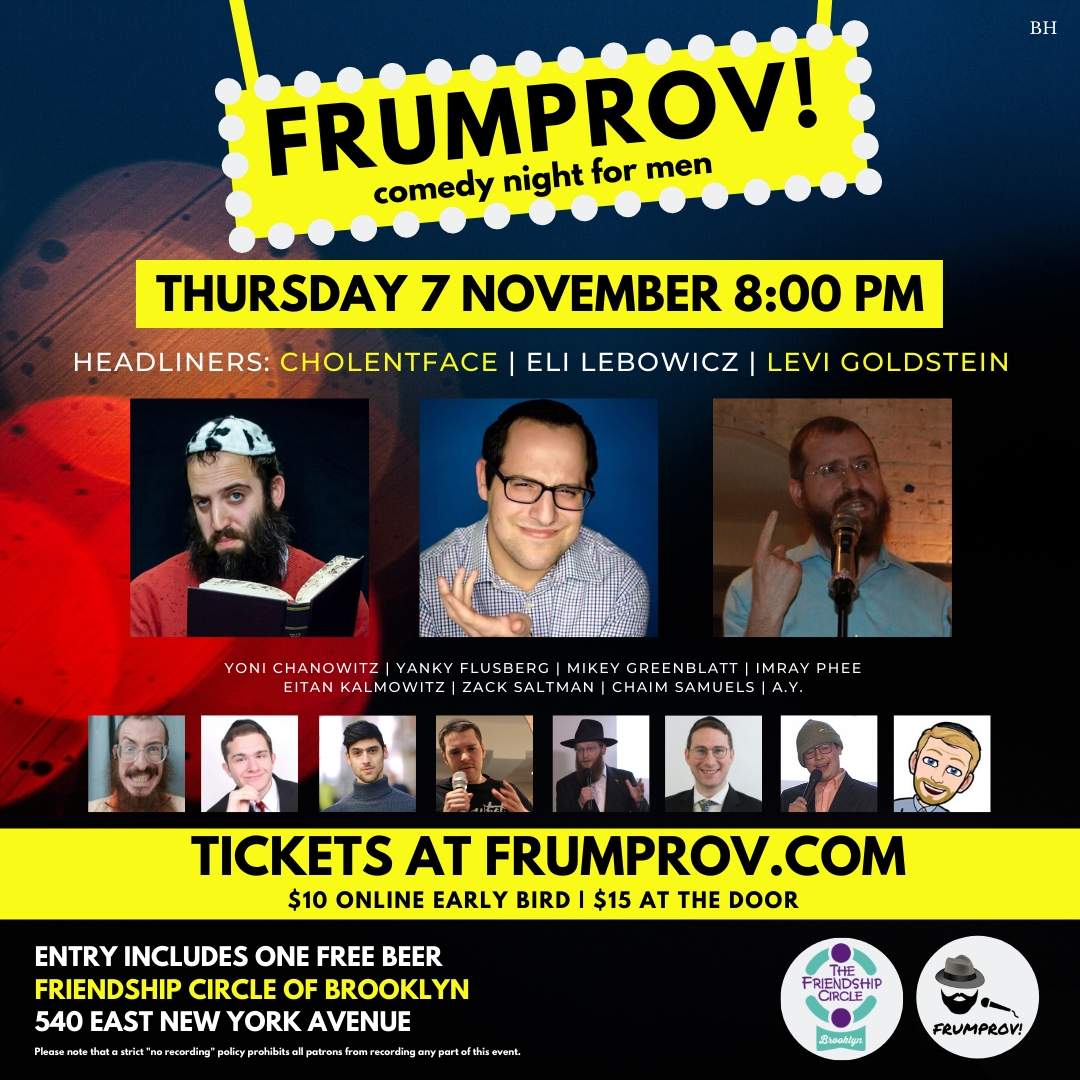 About the organizer
One of the Frumprov! founders.