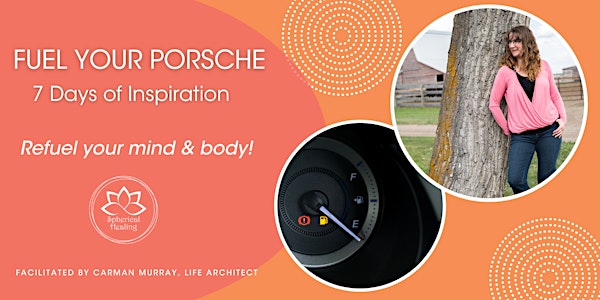 *Fuel your Porsche 7 Day Inspiration
Land in a safe interactive dynamic group to move forward on your unique life journey.
About this event
Join Carman Murray of Spherical Healing for 7 Days of Inspiration to "Fuel Your Porsche".
No, we don't mean an *actual* Porsche - I mean, who can afford that with these gas prices?
However, fueling your *body* like it's a Porsche can be a challenge. You want peak performance, but finding the time to take care of yourself can feel overwhelming with your other commitments.
You will receive:
Daily 30-minute interactive workshops to support you with accountability for the when, why, where, what, and how to uplevel how you fuel your body to perform its best for you, no matter your age. Calls will be at 7 pm MST
Resources to guide you along the way
This inspirational group setting, facilitated by Carman Murray - Life Architect, is for you if any of the following resonates. Are you:
Tired of being tired?
Needing to get some proper sleep?
Unclear about what you want for yourself apart from "better health"?
Uncertain about your goals and/or how to achieve them?
Feeling overwhelmed or consumed with anxiety?
Unsure of how or who to ask for support?
Finding that your eating can be emotional, but don't know what to do about it?
Come find out how to refuel and take good care of your mind and body! Learn how to build on that momentum.
These 7 days of inspiration are complimentary-no fee. Donations are welcome but never expected. Runs September 18-24th, but you must register to attend. Replays will be available when you can't make the live Zoom calls.