Description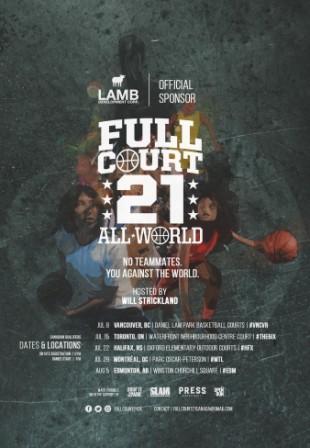 FULL COURT 21™ A New Basketball Tournament Concept:
No Teammates. You Against The World.
Powered In Canada By PressBasketball.com #TheOpenRun.

This Is a FREE Event For The Public.

Only The Players Are Charged A $40 Fee To Cover T-Shirt, Ref Fees x Registration For The Day.

Full Court 21 Canada: The World's Most Unique Basketball Tournament!

Too Often Today, People, Young x Even Some Not-So-Young, Have Become Anchored To Technology In Some Shape, Form Or Fashion During The Summer Months.

FC21 Canada Encourages Embracing The Spirit Of Competition, The Outdoors, Fun, Family x Celebration, Especially During The 150th Birthday Of Canada In 2017!

FC21 Canada Is A Community-Based Grassroots Basketball Tournament Initiative That Incorporates Multiple Players, But No Teammates.
Each Combatant Is Doing Their Best To Outthink, Outlast x Outscore All That Oppose Them In Scoring 21 Points During A Timed x Referee-Regulated Game Whose Roots Are Bound In A Person's First Playground Experiences With Basketball.

Now In Our Third Year In Canada, With Each Cities' Contestants Playing For An Opportunity To Battle In The World Final In NYC August 22, 2017, Full Court 21 Canada Is A Must-See Event!.
DO REMEMBER:
It's You Against The World!
No Teammates!
Bring Your Game!
Do Work!

#VNCVR #YEG #MTL #HFX #TheTDot

FULL COURT 21 CANADA
Twitter/Instagram/Facebook: @FullCourt21CA