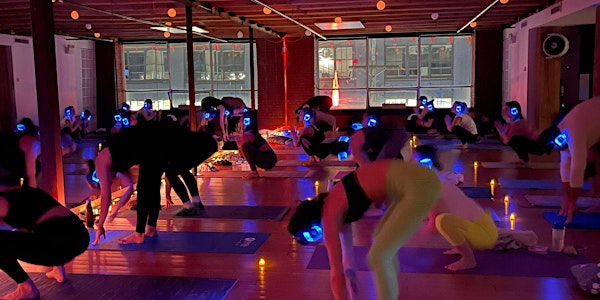 Full Moon Celebration [ TORONTO ] Fall/Winter
Simultaneously bringing thousands together across the country underneath the moon in support of BIPOC entrepreneurs and their allies
When and where
Location
All Secret Locations Downtown Museum, Art Gallery or Yoga Studio Toronto, ON M5V 2A5 Canada
About this event
Instagram : @actifysocial
Discounts : www.actifysocial.com
Meet the World's original Moon celebrations with noise-isolating technology. Actify experiences take place once a month in secret locations across the country, as our community of like-minded souls gather under the energy of the Full Moon.
Our two-hour experiences intertwine all-levels yoga, sound healing meditation, guided moon journaling, and more. You'll be provided a pair of our immersive headsets and hear nothing but your instructor's voice, mesmerizing music, and your own heartbeat.
Whether you join us alone or with friends, you'll embark on a powerful inward journey, meet beautiful people and feel connected to something bigger than yourself.
Actify Social is made for every soul. You are welcome here.
THE LINEUP
[ 6:30pm ]
Attendee Check-in
[ 7:00pm ]
⋆ Greeting circle
⋆ Full moon yoga (accessible for everyone)
⋆ Sound healing meditation
⋆ Astrology reading + guided journaling
⋆ Dance, social + more
[ 9:00pm ]
⋆ Share. laugh. connect.
[ Scheduled ]
⋆ Moonrise over the horizon
Available start time(s) specified on the ticket!
Secret Location
Our peaceful gatherings take place in secret locations throughout the city and are only revealed to ticket holders upon registration. We always select a community-oriented space accessible from downtown.
Want a hint? DM us on Instagram (@ActifySocial) or send an email to hello@actifysocial.com.
What to bring
Please bring your own yoga mat, a journaling notebook and a government-issued ID in exchange for a headset. We also suggest a reusable water bottle, bright-coloured clothing, a sweater or blanket in case it gets cold, plus, whatever else your heart desires to have a GOOD time!
More Information:
Visit our website AcitfySocial.com for more information. We're happy to answer any questions. DM us on Instagram (@ActifySocial) or send an email to hello@actifysocial.com.
Thank you for supporting a BIPOC-owned business.
♥All above times may slightly vary. Arrive early to meet new and old friends
⇊Stay Connected Facebook // Instagram // Website
THE FAQs
• WHY IS EVERYONE WEARING HEADPHONES?
As part of your experience you'll be giving a pair of our specially manufactured noise-isolating headsets. You'll hear nothing but the instructor's voice, their meditative music of choice and your own heartbeat. This minimizes all external distractions and creates a truly immersive experience so that you can be 100% present in the moment.
• HOW WILL I FIND OUT ABOUT THE LOCATION?
Unless disclosed, the exact location will be sent to you upon registration. Our goal is to provide a community oriented safe space.
• WHAT HAPPENS AFTER I SIGN UP?
Please immediately Direct Message after you sign up @actiysocial to double confirm that we've received your contribution. You also will receive an email and a direct message from us.
• WHAT IF I DON'T HAVE INSTAGRAM?
Email us at hello@actifysocial.com after completing your purchase, and we'll make special accommodations!
• WHEN SHOULD I ARRIVE?
1 person at a time. Arrive 15 minutes earlier to be assigned a space to practice
• WILL THE HEADPHONES FALL OFF MY HEAD DURING MY CLASS?
Great news! They don't move even in your downward dog.
• WHAT IF MY CARD DOESN'T WORK?
It's probably a protection on your cards. If you've never purchased with us before, it may stop the payment. Please DM us @actifysocial
• WHAT'S THE REFUND POLICY?
We give credits when applicable so that you can use your money for a future ceremonies, but no refunds and weather cancellations/relocations are at the discretions of the organizers.
WAIVER & LIABILITY Registrants, Attendees and Readers of ActifySocial® (hereby referred to as "Participants") of ActifySocial® must comprehend that serious risks may be associated with viruses and physical activity of any kind including any variety of yoga, meditation, dance, pilates, crossfit, any type of physical exercise, breath work practice and participation in yoga/fitness related activities, including body massage and/or touch, Concert, Yoga Dance / dog yoga and/or any kind of activity (leashed or unleashed) / Rave attendance and participation. I understand that my attendance in class is not without risk to myself, my dog, dog guardian, dog supervisor, other family members or guests, and other class participants (human or canine) These include, without limitation, risks of physical injury, mental injury, emotional distress, trauma, disease, death, contact with other participants and their dogs, and property damage. All risks are known and appreciated by me. I waive any and all specific notice of the existence of the risks. I shall assume responsibility for and !ay my and my dog's medical and emergency expenses in the event of injury, illness, or other incapacity regardless of whether I authorized such expenses. I agree that I, as owner of the dog(s), am solely responsible for the dog(s) behaviour and physical control and agree to carefully monitor and control it at all times. Headset are not waterproof and may be electrocuted. Participants must acknowledge such potential risks may be minor or serious and participants must attend all sessions and/or activities accepting and assuming the inherent risks associated with their participation in any activities of ActifySocial®. ActifySocial® or its founders, employees, affiliates, associates, members, and/or volunteers, are NOT responsible for any injury, contamination, including death, to any person participating in ActifySocial® . At the organizers discretion, if damage to property occurs, you will be charged for the cost of repurchasing damaged headphone(s) unit to its present condition based on the prior equipment testing of the event. In consideration of my acceptance and my participation in ActifySocial®, I hereby release and covenant not to sue ActifySocial® , or its founders, for any and all present and future claims resulting from ordinary negligence and inherent risk during ActifySocial® including but not limited to, any loss, injury, contamination, damage, or liability sustained by me. Please be aware that by entering this area, you consent to your voice, name, and/or likeness being used, without compensation, in films, pictures, and tapes for exploitation in any and all media, whether now known or hereafter devised, for eternity, and you release ActifySocial®, its successors, assigns and licensee from any liability whatsoever of any nature. Do not enter this area if you do not wish to be subject to the foregoing. I have read the above release and waiver of liability and fully understand its contents. By purchasing this ticket, at the location, or via any other outlet, I voluntarily agree to the terms and conditions stated above. -- We hope you can make it! Cheers, ActifySocial®
--
We hope you can make it!
With Peace,
ActifySocial™