Celebrate the coming of the full moon with intention, community and the power of sound.
About this event
Full Moon Circle & Sacred Sound Bath
Join in community with the full moon to shed, set intentions and be in your power among like hearted souls.
We will indulge in gentle movement, breathwork, intention setting, sharing and a deep restorative sound bath.
Experience vibration with channelled vocals and the crystal singing bowls as LUCIANA leads you into a deep state within your being.
Connect in community with the full moon's energy for a powerful sound experience infused with sacred sound codes. Using instruments such as the crystal singing bowls, channelled vocals, tuning forks, chimes, drumming, gong and more, LUCIANA will bring you into an activated state. You will leave feeling relaxed, embodied and stimulated in your being.
Enjoy an oracle card after class, meet community members and purchase ethical real crystals from India that LUCIANA has curated to support you on your journey to the soul.
About your guide:
Luciana is a vibrational healer using voice, music and sound to illuminate and ignite the soul. She is the founder of NÜLOVE and is an accomplished 300hr trained yoga teacher, well known sound healer and reiki master. Over the last 10 years she has had the pleasure of teaching thousands of people across the GTA and USA. She has dedicated her life to being of service through sound, music, movement and curating experiences for people to connect from the inside out.
What to bring
- a yoga mat
- a pillow + eye mask
- Journal + pen
- dress comfortably
- avoid alcohol the night before and day of if possible
*
If you want to save on fees, please pay via EMT a total of $79 to payments@nulovecommunity.com
*
Follow LUCIANA on Instagram and Tiktok @Lucianawithlove x @nulovecommunity
It is my honour to lead you into deep connection with your divinity.
With love,
LUCIANA (and NÜLOVE)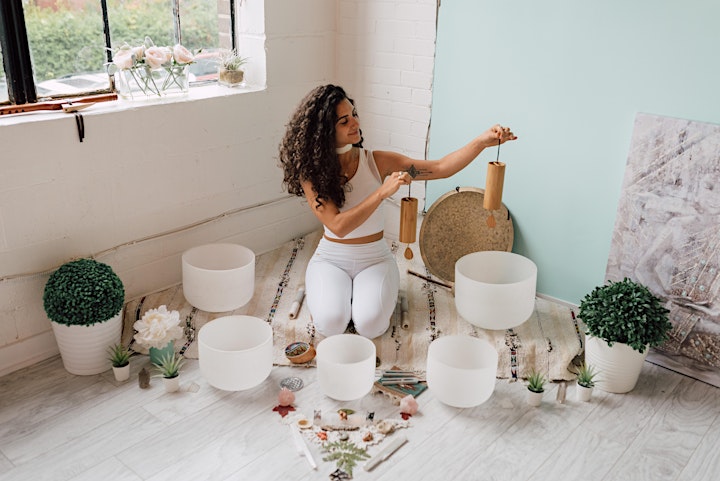 Organizer of FULL MOON CIRCLE + SOUND BATH (OCT 18)