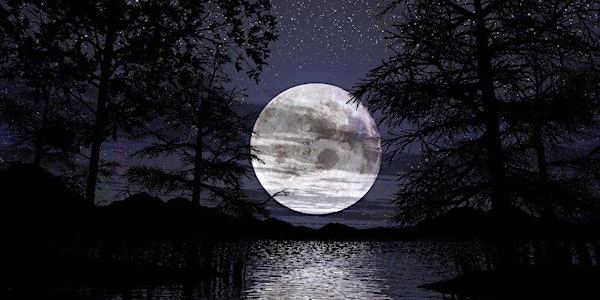 Full Moon - Meditation and Gong Bath
Full Moon evening from 7-8:30PM to clear away stagnant energies, make space for newness, and relax with a 31-min Gong Bath (sound immersion)
When and where
Location
The Sanctuary Space at LMMD #280 7015 Macleod Trail SW Calgary, AB T2H 2K6 Canada
Refund Policy
Contact the organizer to request a refund.
Eventbrite's fee is nonrefundable.
About this event
Full Moon Friday Sept 13 - Join us to decompress from your start of September using pranayama (breathing) and completely relax in sound saturation (Gong Bath or Gong sound immersion).
Charmaine (Livdeep) will lead you in pranayama and meditation into deep relaxation using tools and techniques to calm the heart, nervous system and prepare your parasympathetic nervous system for the deep healing effects of this powerful Gong Bath during the September Harvest Full Moon.
You will clear each chakra (energy centers in the body) with Ayurvedic Single-Sound Mantras. "These simple mantras are said to be effective in activating energy to different areas of the body" (Benton, 2016).
After playing with breathing techniques and mantras, Stacey (Amardeep) will lead you in using our natural body instrument - our hum - to increase our nitric oxide and regulate blood flow. Along with a mudra (hand position), this also known as "humming bee breathing." Your hum is your natural healing tone in your body.
Next relax in savasana (laying down) or a meditative posture for a 31-minute Gong Bath. The Gong Bath is Gong sound immersion which allows for holistic sounds to move through every cell and fiber of your being. We use Paiste and Meinl Gongs including: the 8 Corners of Heaven Gong, a symphonic Gong, Jupiter Gong, and a Synodic Moon Gong.
After our soundscape with Gong, we enjoy an extended time of full silence before concluding our evening together.
Join in for a super Full Moon celebration for yourself to dive into your breathing and an extended savasana with holistic sound.
Note: The Sanctuary Space is within Dr. Lynne Murfin's Clinic - follow the signs for Lynne Murfin, MD. Register here or phone the clinic - 587-390-0180. Sign up early as Full and New Moon events fill up quickly.
Your facilitators for the evening: Charmaine Husum (Livdeep Kaur) and SA (Stacey Amardeep) Bliss
Charmaine Husum (Livdeep Kaur) is an Art Therapist and Kundalini Yoga teacher who uses a delicate blend of Kundalini yoga, Art Therapy and Somatic work to access balance with the hemispheres of the brain. Both Art Therapy and Kundalini Yoga activate neurotransmitters to create and sustain new pathways to health and happiness. Charmaine's dedication to continued exploration into the power of these modalities support her clients in their own path to healing, health and happiness. www.centreoftheheart.com
SA (Stacey Amardeep) Bliss holds a PhD in Education and is a Gong Journeywoman, trained with Gong Master Don Conreaux in 3 countries. She is a Kundalini and Restorative Yoga teacher, Gong Teacher, and is currently conducting research regarding Gong Master Teachers and Their Social Spaces. She is a SSHRC (Social Sciences and Humanities Research Council of Canada) post-doctoral fellow at the University of Regina. When she is not researching, writing, or Gonging, she enjoys cat sitting and/or biking in Calgary. www.blissresearch.org